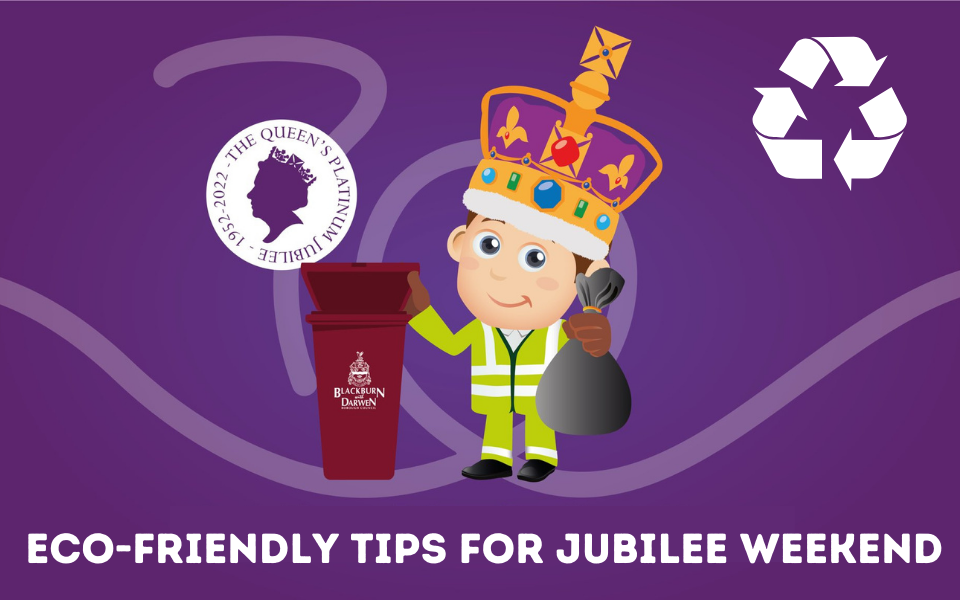 Published Wednesday 1 June 2022 at 17:02
We know how excited everyone is to get partying this Jubilee Weekend!
Whether you're attending one of the many events organised across the borough (check out our 'what's on' guide) or have your own street-party planned, it's sure to be a fun one in Blackburn with Darwen.
However, these celebrations don't need to result in a waste-overload or mass littering.
See our top tips below to help you celebrate in the most eco-friendly way.
Thanks for helping to keep our borough clean and saving the planet!
If you're having a street party, please try and purchase reusable decorations, plates, cups and cutlery, where you can. This saves them from the bin.
If you aren't using reusable plates/cutlery/cups, then please remember that anything with leftover food or grease on it can't go in your recycling bins. If plastic plates have food on them, rinse clean and then reuse or recycle. If paper plates have food on them, these must go in your burgundy waste bin.
Add labels to bin bags at your street party, so people have the option to recycle cartons, cans and any other materials.
Encourage everyone to bring their own reusable cups or glasses.
Ditch the plastic for fabric bunting – you could even have a go at making your own!
Plan ahead to try and avoid unnecessary food waste. If you have a good idea of numbers attending, this will be helpful when knowing how much to make. Be sure to have Tupperware/empty containers to hand, so everyone can grab some leftovers and save food from the bin.
If you're attending a public event, please remember to use the litter-bins rather than dropping rubbish on the floor.
Finally, you can get in touch with Keep Darwen Tidy / Keep Blackburn Tidy to get involved with litter-picking across the borough post-party.