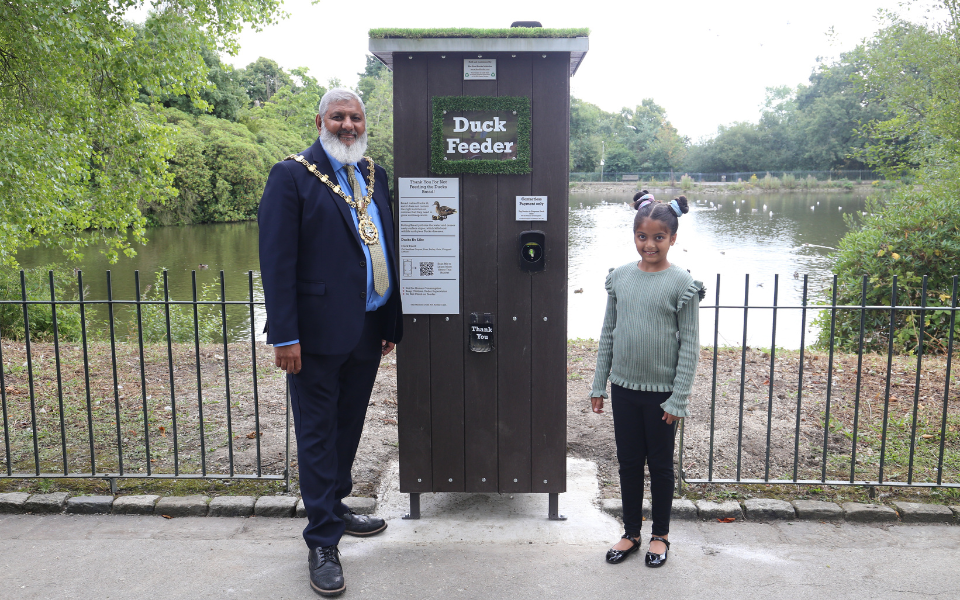 Published Monday 22 August 2022 at 15:19
Corporation Park is now home to a new Duck Feed Dispenser, becoming one of only a handful of councils in the UK to embrace this step in the 'Feed the Ducks' initiative.
The park has long been home to ducks and wildlife that relish its wonderfully spacious ponds, however, our billed friends haven't always received the best diet from members of the public, who are largely well-intentioned.
The park has often been left littered with food which, rather than being attractive to ducks, has attracted rats, leaving the pond area strewn with waste.
The new Duck Feed Dispenser intends to change that, with its unveiling attended by Blackburn with Darwen Mayor, Councillor Suleman Khonat. He said:
It's fantastic to see this duck feeder installed in one of our borough's beautiful parks.

By dumping food waste in the park that is not suitable for the ducks, people are attracting rats, so it's great to have a healthy alternative on offer.

I urge all of our residents and local businesses to please responsibly dispose of their food waste, rather than spoiling our parks and harming local wildlife.
The Feeder itself is made from recycled plastics, equivalent to 20,000 plastic bottles, and for just £1 dispenses food with quality nutrition for the ducks, payable by card only. Residents can also scan a QR code on the duck-feeder, which takes them to a page on the www.feedducks.com website with information on Corporation Park.
This installation comes alongside a recent announcement of £1.5million investment in Environment and Highways, with cash being spent on things that matter to residents such as parks, paths and litter-picking. Read more here.
Cllr Zainab Rawat, the councillor for Shear Brow and Corporation Park, is pleased this feeder has been introduced to the borough. She said:
Corporation Park is a wonderful place to visit, and prides itself on being a friendly and welcoming park, it is only fair that extends to its wildlife as well.

Families love seeing the ducks and enjoy feeding them, and now there is a facility available to ensure that are ducks are getting the right type of food.

We encourage all visitors to the park to use bins for any rubbish or take their litter home with them so that the park is a clean environment and we hope that there is a decrease in food waste being left within the park.
Enforcement officers will be frequenting the park too, on hand to interject if anyone is wrongly dumping waste and issue fines when necessary.