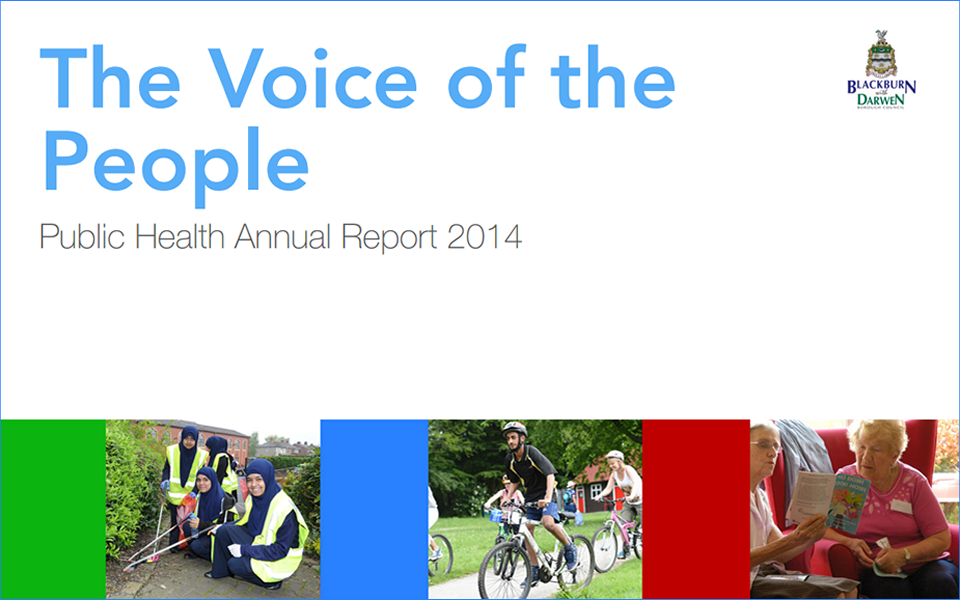 Published Wednesday 14 January 2015 at 11:16
The 2014 report of the Director of Public Health for Blackburn with Darwen is now available for viewing.
The report – available here – comes in the form of an interactive PDF and looks at health and wellbeing for residents in Blackburn with Darwen and how it changes throughout people's lives.  It is set out in three sections – Start Well, Live Well and Age Well.
The views of residents are at the forefront of this year's report. Each section has two key health issues that are important to children and young people, people of working age and older people with a summary video in each which describes the common health issues and the causes of poor health, followed by residents' ideas about how to stay healthy.
The videos and interactive diagrams are designed to be used by community groups, residents and members of the Health and Wellbeing Board to kick start discussions about health and wellbeing in Blackburn with Darwen.
More detailed data and analysis is available to read in conjunction with the report, available via links contained within it.
Dominic said:
"I'm delighted to be able to present this year's report to the borough. One of our roles in Public Health is to discuss with local people the things that impact on their health, wellbeing and life chances and how communities, public services, private organisations and the voluntary sector can work together to create healthier places for people to live, work and play. This report shares the views and ideas of Blackburn with Darwen residents. It highlights that we are not just responsible for our own health but also for the health of our wider community and that we can make a difference through what we do with and for others.

"We face a firm set of health challenges in Blackburn with Darwen but with a strong and confident civic response, and by all working together on the agenda set out in this report, I am confident we can continue to make a very significant difference to the health outcomes of residents of the borough."