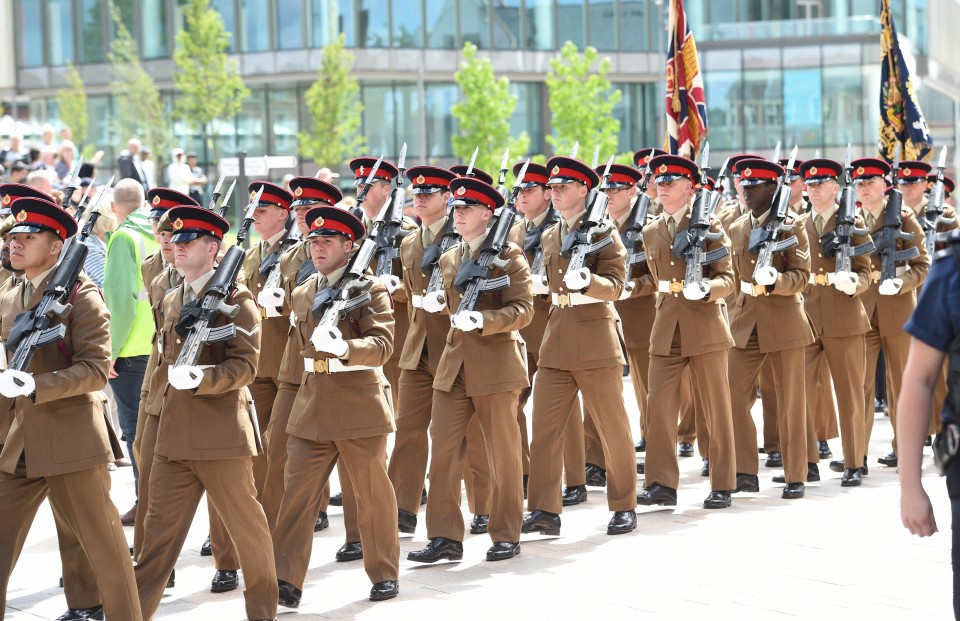 Published Thursday 7 July 2016 at 13:58
Hundreds of people flocked to Blackburn Cathedral and town centre to watch the moving Freedom Parade to mark the 100th anniversary of the Battle of the Somme.
The parade saw the Duke of Lancaster's Regiment – the Infantry Regiment of the North West – march through the town after a regimental commemorative ceremony at the Cathedral.
Starting at Cathedral Square and led by The King's Division Band the soldiers, in full dress and with bayonets fixed, drums beating and colours flying, were cheered on by hundreds of people, finishing at King George's Hall, where they were greeted by the mayor, Hussain Akhtar.
A military music concert by The King's Division Band then took place in the Cathedral Quarter.
Civic dignitaries and armed services personnel from all over the North West attended the service at the Cathedral, including the Lord Lieutenant of Lancashire, Mayors and Mayoresses, the Duke of Lancashire's Regiment and the Royal British Legion.
The Battle, which lasted 141 days, left 420,000 British, 195,000 French, and 650,000 German soldiers dead. A total of 10% of casualties were soldiers from regiments in the North West, including men from Blackburn.
Councillor Mohammed Khan, Leader of the Council, said:
I am delighted the Duke of Lancaster Regiment held this important commemoration in our borough.

The Freedom March was a wonderful display to commemorate the brave soldiers who fell in the Battle of the Somme, and I was really pleased to see so many people come out to watch the parade and pay their respects.

It is very important we never forget the scale of what happened at the Somme. It is a battle which touched nearly every family in the country. This event honoured the bravery of those who sacrificed so much."
Colonel Chris Owen, the Regimental Secretary, said:
As a battalion we look to the future but we draw inspiration from our history as well as from our strong roots in the local community.

We were honoured to commemorate this anniversary with our Regimental family, alongside representatives of the communities from which our Kingsmen, (as our soldiers are uniquely called), originate today, as they did then. It was a wonderful tribute."