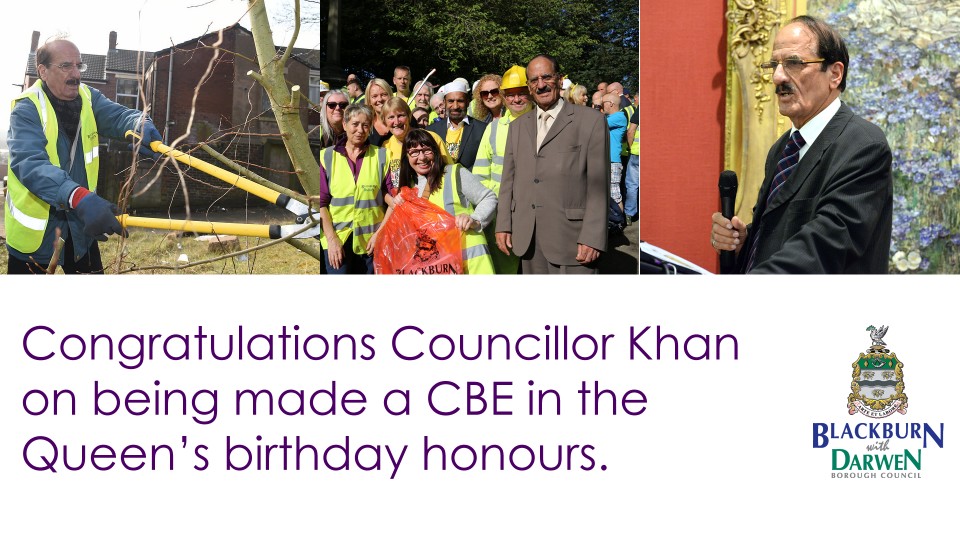 Published Friday 9 October 2020 at 22:31
Leader of Blackburn with Darwen Council, Councillor Mohammed Khan, is today celebrating news that he has been awarded a CBE by the Queen – read his story here:
Born and raised in Rawalpindi, Pakistan, Mohammed came to Blackburn in June 1965.
He worked and studied at Blackburn College in the subject of Textile Technology.
He was later employed in the textile industry in the USA, which is also where he studied and completed his Business Management certificate at the Pennsylvania State University. He was also awarded a Diploma in Business Management from the LA Salle Extension University Chicago, Illinois.
On returning to Blackburn in 1981, he returned to working in the textile industry until he opened his own business in 1985.
He is one of a very small number of highly respected British Asian senior local politicians, influencing and shaping key national agendas, playing a pivotal role in local and regional sector improvements at a very senior and strategic level.
Council Leader since 2015, Councillor Khan successfully forged a new relationship with residents – known locally as Your Community, Your Call – and he remains as active as ever at a grassroots community level.
He is passionate about supporting vulnerable communities and oversees many projects which directly impact residents.
He very recently led a successful £10m funding bid to Sport England in a highly competitive national process on behalf of a wider Lancashire partnership covering half a million people.
Particularly focussed on people with mental wellbeing challenges, this programme is tackling physical inactivity, particularly the 120,000 stubbornly inactive to encourage very low level activity as the first step to improve quality of life and reduce costs across the health and care system.
A lifelong advocate for community cohesion, bridging communities to foster tolerance and friendship, in 2018 he led the development of a partnership (one of only five nationally) with Government and local organisations to deliver an ambitious innovative programme to build strong, integrated communities with national learning.
He chairs the partnership board and has previously supported the Prevent programme at a national level making sure others learn lessons from experiences in Blackburn, never side-stepping difficult issues, tackling them head-on and the result is that Blackburn has avoided the worst kinds of community unrest.
His leadership engages all sections of the community and he instigated and championed a successful campaign to attract the Council's first ever three female Asian councillors elected in 2018 and 2019.
An excellent example of a civic leader who never rests on his laurels, he has built on his passion for good quality housing for the most vulnerable people, enabling and developing nationally recognised good practice in extra care housing and specialist dementia housing support, through a pro-growth mindset, attracting high quality investors against the odds and keeping projects on track over many years including difficult sites such as Riverside Heights in Darwen and Eachstep and Albion Mill in Blackburn.