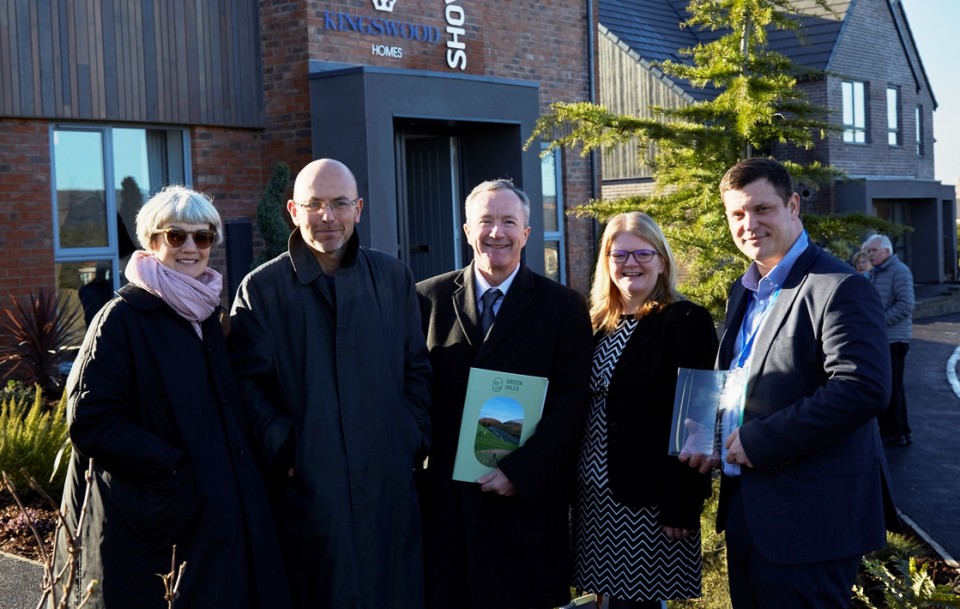 Published Tuesday 30 January 2018 at 14:32
Blackburn with Darwen Council has welcomed the launch of the new Green Hills development in Blackburn designed by Gerardine Hemingway MBE and Wayne Hemingway MBE.
The development that has also now won Best Housing Development at the NW Insider Residential Property Awards is a new community of barn-inspired homes and the first project of its kind in East Lancashire.
It is 17 years since Wayne Hemingway first criticised the "Wimpeyfication" of British housing, suggesting new build homes were mostly identikit boxes lacking design quality.
Having successfully redefined urban living with the Staiths South Bank in Gateshead, the Hemingways have now turned their attention to their hometown of Blackburn.
In total 167 new homes will be built at Green Hills, using a combination of authentic materials and planning based on traditional Lancashire farmstead concepts.
There will be two new village greens, woodland areas and trails and no fewer than 41 different house designs, supporting the Hemingways' view that high quality, bespoke design can be affordable and deliverable.
Wayne said:
When you have a team behind a project that all care and share a vision, then creating something extraordinary becomes possible.

With the support of a far-sighted local council, enlightened landowners who want to leave a legacy for the town and an SME developer such as Kingswood Homes that is willing to take on challenges and do things differently, we were able to design a scheme that completely raises the bar for new developments in the area and will stand the test of time.

It proves that new housing doesn't simply have to be repetitive and uninspiring but is an opportunity to create affordable, diverse and accessible places that people are proud to call home and that reflect the character of an area.

The first show home to open at Green Hills is the Forge BF, a three-bedroom detached home. With interior design also by HemingwayDesign, the home features a mix of timber and bespoke brickwork with feature chimney detail and large floor to ceiling windows.
There will also be 2, 3, 4 and 5-bed homes at Green Hills, many of which benefit from the stunning countryside views of this hillside location overlooking the Pennine moors.
Prices currently start at 177,950 for a three-bed semi-detached with garage and additional parking space and go up to £309,950. Work on the first phase of 61 new freehold homes at Green Hills is well underway with the streets overlooking the village greens all taking shape.
Executive member for Regeneration Councillor Phil Riley who attended the launch, said:
When the team first approached us about this development we knew it would be something special as we've worked with Wayne on a number of projects including the National Festival of Making and Blackburn is Open, and we know he is committed to celebrating good design that makes a difference in people's lives.

I'm delighted to say that the scheme is very much as we had hoped and will really set a new standard for future developments as well as contributing to the massive regeneration that is taking place across the borough.
Paul Jones, managing director of Kingswood Homes, said:
The opening of a show home is a major milestone for a development like Green Hills because, by its very nature, nothing else similar exists for people to see.

Our first residents who bought off plan took a leap of faith and now they are being rewarded as they can see the individuality of this development as it grows.

They have homes that won't date or just become part of a bland, formulaic development all looking the same. These properties and the landscaping were created to inspire people and give them a real sense of home.
The show home at Green Hills on Livesey Branch Road in Feniscowles is open from Thursday to Monday 10am to 5pm.
For more information see greenhillsblackburn.co.uk