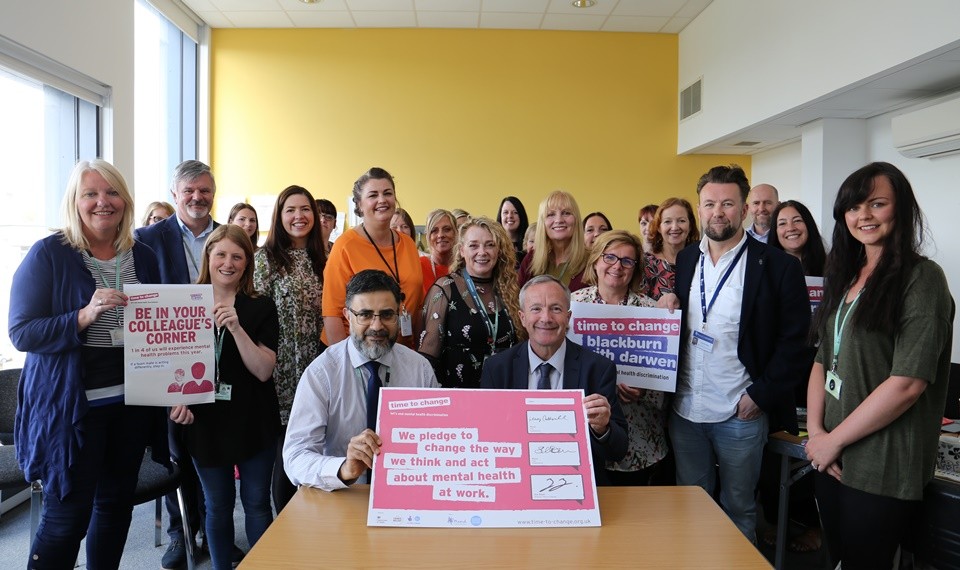 Published Monday 14 May 2018 at 12:35
Blackburn with Darwen Council has today launched an employer pledge with Time to Change, England's biggest programme that supports people to open up to mental health problems.
By signing the pledge as part of its support for Mental Health Awareness Week (May 14-20), the Council is committing to changing the way it thinks and acts about mental health in the workplace, with a range of activities planned that will help to break the stigma that surrounds mental health.
The signing ceremony took place with Council staff, including newly appointed Time to Change champions, alongside representatives from MIND.
Time to Change is run by charities Mind and Rethink Mental Illness and funded by the Department of Health, Comic Relief and the Big Lottery Fund. It was set up to create a positive shift in public attitudes towards mental health problems. Time to Change supports communities, schools and workplaces to open up to mental health problems; to talk and to listen.
Sayyed Osman, Director of Adult Services, Neighbourhoods and Community Protection and Time to Change Champion, said:
I'm delighted that we are further reinforcing our commitment to mental health here at the Council by signing this pledge. This is vitally important work; mental health is as important as physical health and we shouldn't be ashamed to talk about it. We have a range of services to offer help and support, and by combatting mental health stigma we hope that people who need to feel more comfortable accessing the help they need.
Jo Loughran, Interim Director of Time to Change, said:
We know it can be hard to talk about mental health, which is why we're supporting employers to open up; to talk and to listen. Many employers have found that making a strategic commitment to the mental wellbeing of their workforce not only benefits their staff but also improving productivity and staff retention. With one in six British workers experiencing mental illness it's time for businesses to make a change and start creating more mentally healthy workplaces.
Time to Change is funded by the Department of Health, Comic Relief and the Big Lottery Fund.