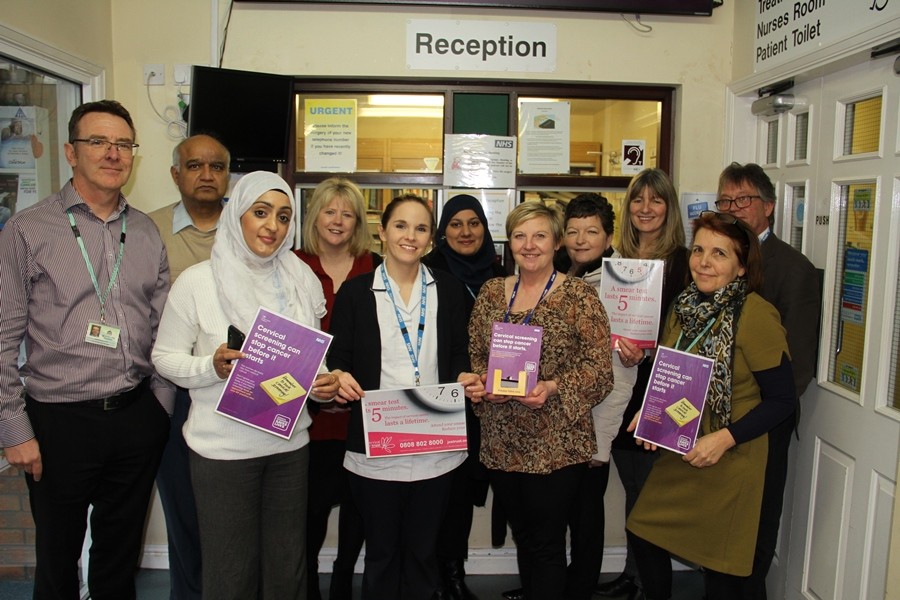 Published Thursday 7 March 2019 at 14:02
Blackburn with Darwen Council is continuing its backing for cervical cancer prevention by getting behind a new Public Health England campaign.
The major new campaign launching this week nationally, 'Cervical Screening Saves Lives', is designed to increase the number of women attending their cervical screening.
The campaign will encourage women to respond to their cervical screening invitation letter and, if they missed their last screening, to book an appointment at their GP practice.
Around 407 women are diagnosed with cervical cancer in the North West each year and around 112 women die from the disease.
It is estimated that if everyone attended screening regularly, 83% of cervical cancer cases could be prevented.
To mark support for the drive in Blackburn with Darwen, a photocall was held at Primrose Bank Medical Centre with GP Dr. Paresh Harshavadan Mashar, councillors and others in attendance.
The Council is also promoting messages via the Council's social media and digital advertising channels and internally to staff.
The new PHE campaign provides practical information about how to make the test more comfortable and gives reassurance to women, who may be fearful of finding out they have cancer, that screening is not a test for cancer.
Regular screening, which only takes a few minutes, can help stop cervical cancer before it starts, as the test identifies potentially harmful cells before they become cancerous and ensures women get the right treatment as soon as possible.
On average cervical screening helps save the lives of approximately 4,500 women in England every year.
Councillor Jackie Floyd, Assistant Executive Member for Health and Adult Social Care, said:
We're committed to talking about this across the borough. We want as many people as possible to know how they can reduce their risk of the disease and be able to educate others.

Some women are nervous or embarrassed about the test and put off having it done. While it's not the most enjoyable experience most women say it wasn't as bad as expected and were glad they did it. As with all cancers, the earlier a problem is spotted, the better the outcome. The simple fact is screening saves lives.
Dr Paresh Harshavadan Mashar, a GP at Primrose Bank said:
Clinical evidence shows that early diagnosis greatly assists the successful treatment of cervical cancer and I would urge all those women eligible to take a smear test.
The campaign is also being supported by leading charities across England including Jo's Cervical Cancer Trust.
Nationally. activity includes new advertising on TV and other channels, together with information going out through GP surgeries and pharmacies.
For further information about cervical screening, please search 'NHS Cervical Screening' or visit the NHS's cervical screening web page.