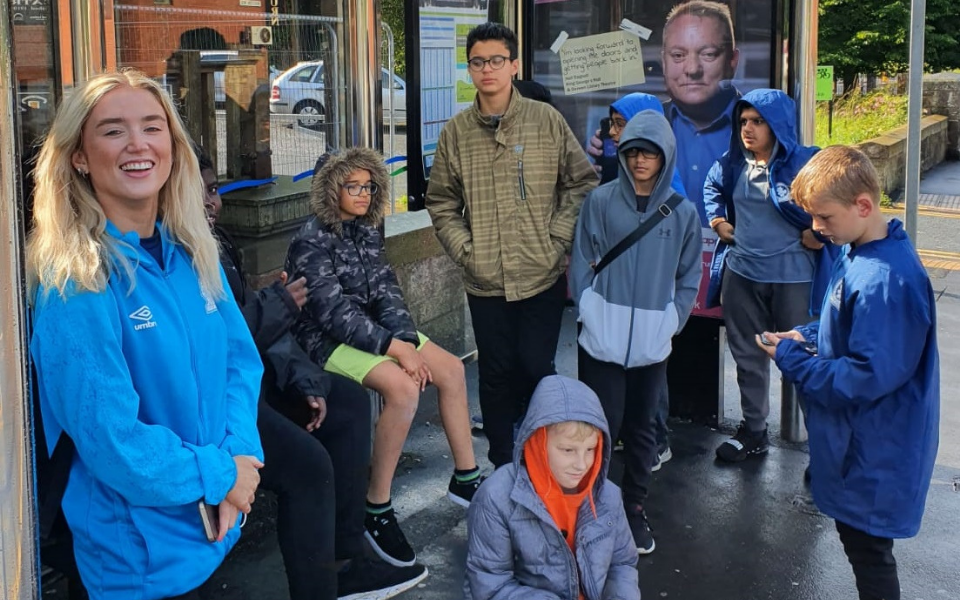 Published Tuesday 17 August 2021 at 14:56
Taking part in our Community Ambassador programme helped 23 year old Chloe Pilkington land her dream job.
Chloe, who graduated from Manchester University in 2019 with a degree in sociology, was interested in a career in social integration or community cohesion.
Unsure how to set out on her chosen path, Chloe discovered the government-funded Community Ambassador programme, delivered through Blackburn with Darwen's social integration programme Our Community, Our Future.
Community Ambassadors aims to help local adults develop their leadership skills and become more involved in local life through working with others on projects that improve their neighbourhoods.
Delivered in partnership between Spring North, Blackburn Rovers Community Trust and Care Network, the free 12-week programme also provides participants with an accredited qualification they can list on their CVs.
Chloe, who lives in Wilpshire, said:
When I first looked at jobs in integration and wellbeing, I didn't have the right kind of experience. I took a job in Debenhams while I looked into volunteering. Then I heard about Community Ambassadors, and signed up to the first course in September 2019.

Our group was really diverse and I met people I wouldn't normally have met. I really enjoyed the mix of classroom-based sessions to develop our knowledge, and getting out in the community learning more about opportunities to make a difference in my town.
During the 12 weeks of the programme, Community Ambassadors learn how to set up and formally constitute community groups. The varied programme also includes engaging sessions on understanding different cultures, developing community networks and project management. Everyone who takes part in the programme will have the chance to research their ancestry through DNA testing, and go on cultural visits within the borough.
During the pandemic, Chloe took a job in insurance but knew it wasn't for her. Then she heard about a vacancy within Blackburn Rovers Community Trust that matched her interests.
Chloe continued:
What I'd learned on the Community Ambassador programme gave me lots to talk about in my interview.

I got the job and I've just completed my first month as the Trust's Diverse Communities Engagement Officer!
Chloe's role involves working across different Blackburn Rovers Community Trust's programmes, including mental health support programme Men in Sheds.
She is also enjoying being at the front of the classroom for this year's Community Ambassador courses, and also helps to deliver sessions to the young people's equivalent programme Youth Ambassadors.
Chloe added:
I'm finding it really rewarding. I really enjoy Youth Ambassadors – I've been able to take a lead on some sessions, for example exploring racism and bullying through the Euros.

Youth Ambassadors teaches our young people some very important messages. It's important for this age group to be clued up on matters like integration and racism. They're the future and can help build a better society to grow up in.

It's really nice knowing my work has an impact in the community. Community Ambassadors and Youth Ambassadors are great for inspiring leadership and helping people grow in confidence – that's the part of the job I love most.
Recruitment is underway for the next Community Ambassador programme starting in September.
To find out more and reserve your place, email caproject@brfctrust.co.uk or call 01254 304597.
Coun Mohammed Khan CBE, Leader of Blackburn with Darwen Council added:
The Community Ambassadors programme has been really successful in empowering local people to work with others and lead projects to make their areas better places to live.

It's very satisfying to know that its set Chloe on a very rewarding career path too.

I'd encourage anyone who wants to make a difference in our diverse borough but doesn't know where to start to get in touch to find out more about Community Ambassadors.