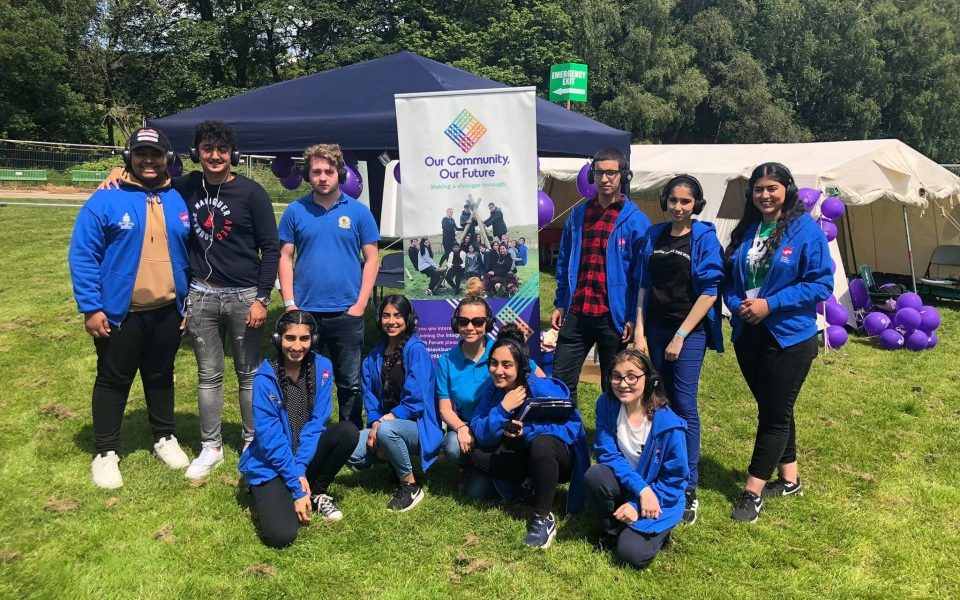 Published Tuesday 25 June 2019 at 13:49
Last weekend hundreds of people came together at neighbourhood events to celebrate everything they have in common as part of the Great Get Together.
Held in June each year, the Great Get Together encourages people from different backgrounds to come together socially. It's inspired by the memory of murdered MP Jo Cox who worked hard for community cohesion and integration in her West Yorkshire constituency. In her first speech to parliament Jo declared that "We are far more united and have far more in common than that which divides us". The Great Get Together, held around the time of Jo's birthday, is now in its third year.
The Blackburn with Darwen Youth Forum worked together to organise a silent disco event – Eat, Rave, Repeat! – to bring young people and their families together, staged in Witton Park as part of the Restricted Rocks tribute bands festival.
Blackburn with Darwen Youth MP Uday Akram, one of the silent disco's organisers, said:
A lot of people came to our event, people of all different backgrounds and cultures. We got different people all coming together and we couldn't really ask for more.
The Youth Forum's event was funded by Our Community, Our Future, Blackburn with Darwen's social integration programme.
Our Community, Our Future also provided some funding to other neighbourhood events aimed at bringing people from different backgrounds together to have fun.
In Darwen, the Great Get Together was combined with a Refugee Week celebration at the United Reformed Church. This lively event, hosted by Darwen Asylum & Refugee Enterprise (DARE), was attended by the Mayor and Mayoress of Blackburn with Darwen and saw people of different nationalities sharing food from a wide variety of cuisines, as well as performing traditional music and dance.
The Whitehall Park Supporters group also held a family fun day and barbecue, to give new residents of the area the chance to meet others living locally.
A Picnic in the Park event hosted by the Blackburn West Health Group in Witton Park brought people together to share food and drink, and take part in craft activities around the theme of belonging.
In Little Harwood Community Centre, a get together saw local families sharing food, enjoying music and having fun.
And Romney Voices staged their third annual Great Get Together event – the Romney Voices Family Shindig – with live bands, fun activities and food. Hundreds of people came to celebrate together at this well-established community event.
Cally Kershaw-Calvert, Vice Chair of the organising committee, commented:
This weekend shows what you can do when you celebrate a community and its diversity and how much people have in common.
Councillor Mohammed Khan, Leader of Blackburn with Darwen Council, said:
I congratulate all the groups across the borough who worked hard to arrange events to bring people together last weekend.

The legacy of Jo Cox, who believed passionately in strong, cohesive communities, is very powerful in encouraging groups up and down the country to organise events that celebrate diversity and unity.

Coming together through common interests is a great way of achieving better social integration. The Great Get Together aims to highlight this and I am delighted that we had a number of groups in Blackburn with Darwen of all ages who took the opportunity to arrange neighbourhood events.
Take a look at some photographs from the weekend's Great Get Together events: