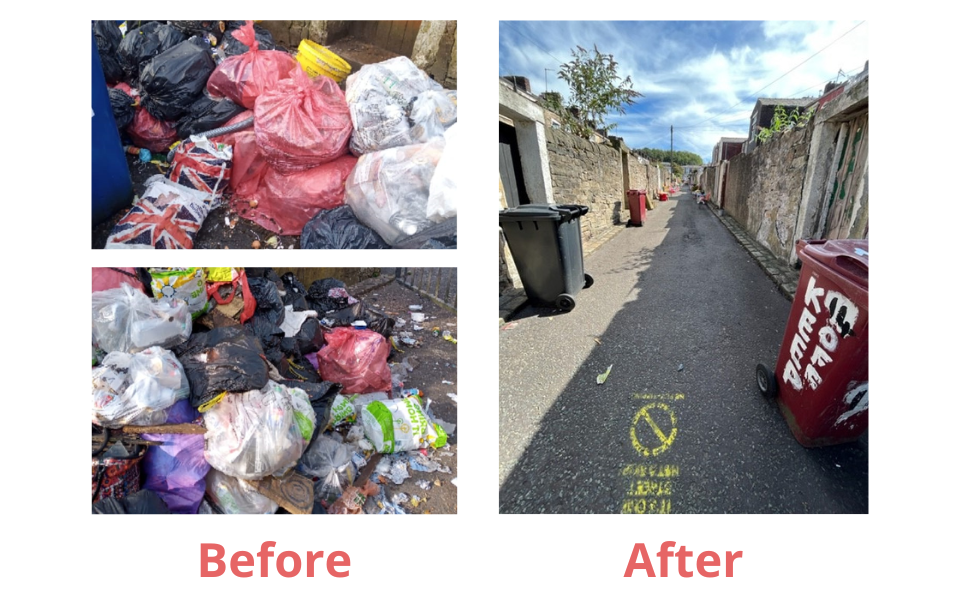 Published Friday 23 September 2022 at 11:17
Residents and Council staff have come together to transform a back alley in the Blackburn Infirmary area, making it a safe and friendly space for local residents to enjoy.
Officers from the environment team attend monthly environment-focused meetings with Councillors and local residents on a Wednesday evening at the Ivy Street Community Centre.
This gives residents an opportunity to discuss waste-related concerns for their area, and the environment team a chance to provide important updates and share key information on fly-tipping, littering, recycling and more.
Through these regular meetings and open conversations often comes the drive to do a dedicated clean-up in disused and dirty areas – as highlighted by the recent work in the back alleyway of Leech and Infirmary Street.
Through the alliance of the committed litter-picking team, who are out daily cleaning the streets and looking after the area, and the Council's fly-tipping crew, all the waste was removed from the back alley to give the residents a fresh start.
This created a foundation for residents to utilise the space as suits them and their community, creating a safe place for neighbours to chat, young children to play and plants to flourish.
Since the alley has been cleaned there has been just two incidents of waste accumulating – both of which were dealt with using education rather than enforcement.
This is yet another example of what fantastic results can be achieved when community spirit and Council come together – and of the amazing work done right across our borough by the ever-growing network of litter-picking volunteers.
If you'd like to organise a clean-up, the Council can offer plenty of support and equipment. All you need to do is complete our online form and tell us about your event. You'll need to provide basic information including location, date, time and contact information.
We can assist by:
Providing free tools for you to borrow, such as spades and rakes
Remove rubbish – you collect it, we take it away!
Keeping you safe by providing advice
Complete the form here. Please note, the Council requires at least seven days' notice period in advance of the clean-up.
You can find more helpful advice on organising a community clean-up on the RecycleBwD website.