Published Tuesday 4 October 2016 at 10:30
Community Clothing, the social enterprise launched by fashion designer Patrick Grant, has opened a shop in Blackburn.
The brainchild of the man perhaps best known as known as a judge on BBC TV's Sewing Bee, Community Clothing aims to make British made clothing affordable to high street shoppers.
The brand is intended to be a showcase for the high quality of traditional making skills in the UK, using British made materials and keeping British factories busy during their quieter periods.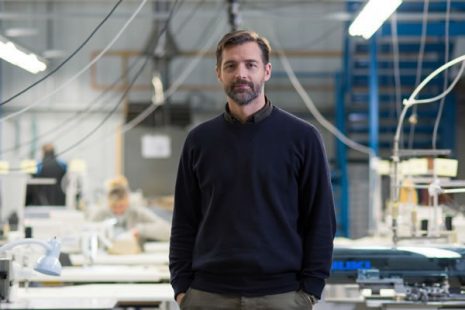 First launched online as Kickstarter project,  Community Clothing will be sold from the Lord Street West Shop alongside knitwear from a renowned factory in Hawick, Scotland, that has made clothing for high fashion brands such as Chanel.
It will also stock British made socks and handmade shoes as well as an extensive range of men's and women's basics.
The shop, a former charity shop, has been given a complete facelift with help from Blackburn with Darwen Borough Council, Blackburn's Bootstrap Charity, youngsters from Tauheedul Islam Boys' High School and the architectural help from local firm DAG architects.
Sportwear designer and general manager, Iain Trickett from Accrington who has worked with international sportswear brands has been the creative brain behind the renovations and will manage the shop as well as designing some of the range.
He said: "The shop is basically a physical presence for the brand, rather than just being purely 'online.' Ultimately I want this to be a cool space to hang out, have a brew, buy a pair of jeans and really engage with what we are as a brand."
Patrick Grant said: "We are utterly delighted to be opening the first and only Community Clothing store in the centre of historic Blackburn.
"It's vital for us that the brand has a physical home and we're so excited to be in such a beautiful building with such an amazing story, and, we hope, to be in the midst of the regeneration of this beautiful part of town."
The project is being supported by Blackburn with Darwen Council who worked with Patrick Grant to find a property for the new business.
The Council is also working on plans to bring the rest of the building back into use as part the new Townscape Heritage Project that will see the renovation of up to 25 historic buildings within the Blakey Moor, Northgate and Lord Street West area.
Executive member for Regeneration at Blackburn with Darwen Council, Councillor Phil Riley, said: "Community Clothing is a fantastic new addition to our town centre and we've worked closely with Patrick to help make his vision a reality.
"Attracting and working with exciting new businesses like this is a priority for the Council and is part of our commitment to make Blackburn town centre a vibrant place for people to shop and visit."
The shop is open Thursdays, Fridays and Saturdays, 10am-6pm and others days by appointment. Volunteers are being sort help out in the shop. Contact enquiries@communityclothing.co.uk or 01254 693893. Alternatively visit www.communityclothing.co.uk