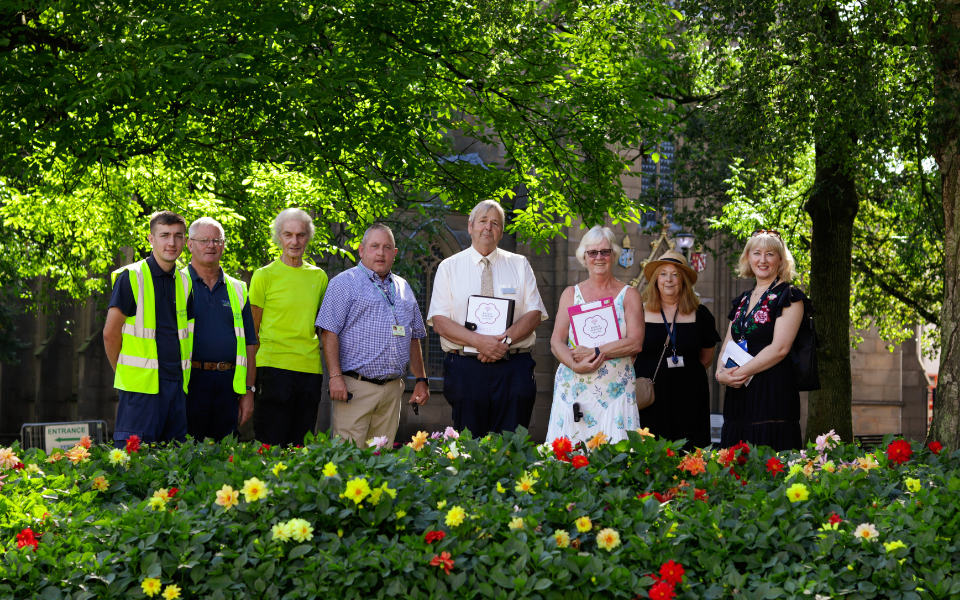 Published Friday 21 October 2022 at 16:51
Blackburn is celebrating after winning "Gold" at the Royal Horticultural Society's North West in Bloom Awards, which honour the region's greenest and most beautiful locations.
The Gold award was presented at the regional ceremony yesterday – in which Blackburn Town Centre won a Gold Award in the 'Town / City Centre' category.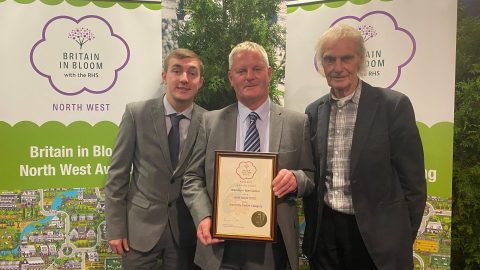 The accolade comes just days after receiving a prestigious Silver Gilt award in the national finals of the 2022 competition for the 'Business Improvement Districts, Town Centres and City Centres' category, presented in London and announced live on The One Show.
The judges visited the town centre in August and assessed the level of horticultural achievement, environmental sustainability and community participation in Blackburn town centre.
Stops included the well-established planting in the Cathedral Gardens and King William Street, a large number of beautiful planters and barrier baskets around the town, community planters on Exchange Street, Victoria Gardens and Higher Church Street and new landscaping improvements, such as Blakey Moor and Jubilee Square.
This year's displays were in tribute to The Queen's 70-year reign and the planting was in full bloom when visited by the judges during the summer.
Councillor Phil Riley, Leader of Blackburn with Darwen Council, said: "This is absolutely fantastic news and testament to the dedication and hard work that goes in to making Blackburn town centre look its very best each year.
"Our gardeners – Ian, Tony and Ronan – are well known around the town for working exceptionally hard all year round and truly going above and beyond to keep our floral displays looking their very best.
"It's a real team effort too with support from Blackburn BID, The Mall, and all our partners and volunteers.
"Both of these awards are very much deserved – I'd like to say a big congratulations and thank you to everyone involved."
Catherine Price, Blackburn Town Centre BID Manager, said: "These awards recognise the hard work of the Blackburn in Bloom partnership.
"Every flower that's planted and every planter that's watered and maintained positively impacts of the appearance of Blackburn Town Centre for visitors.
"We continue to look at ways we can engage with more groups in the town to benefit everyone and the overall impression of Blackburn."
In Blackburn, a range of incredible volunteers help to ensure the town is always 'in bloom'. The Growing Places partnership, led by Blackburn BID, encourages new volunteer groups to take on small community gardening projects for the year. So far there has been students from Blackburn College, young people from Blackburn Youth Zone, volunteers from Child Action North West LGBTQ group, Age UK, Blackburn with Darwen Adult Learning and Blackburn Foodbank.
A huge thank you to each and every person involved.