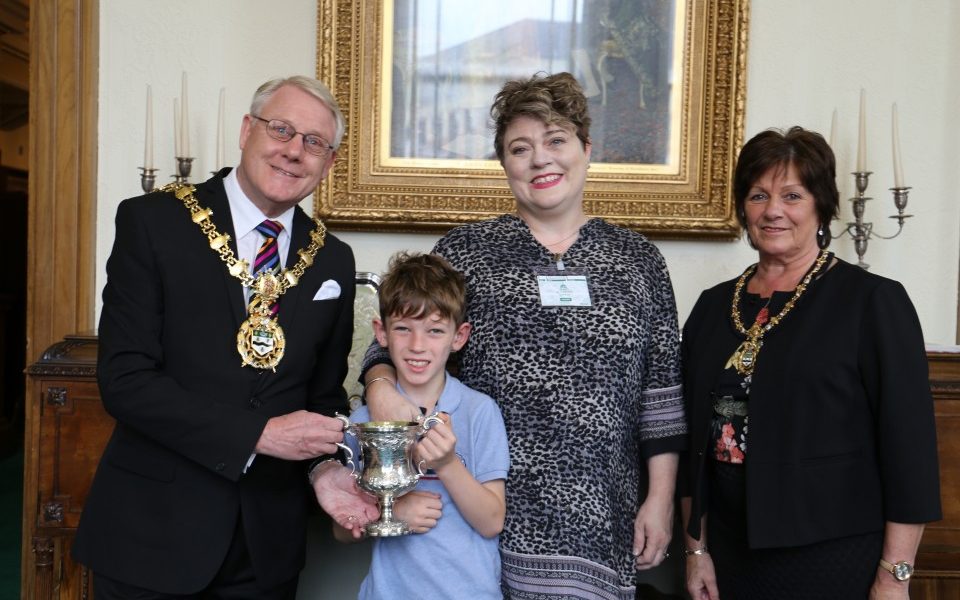 Published Monday 2 September 2019 at 8:07
The great-great-great-great-granddaughter of Blackburn campaigner, George Dewhurst, met with the Mayor as part of her bid to get back a silver cup which was presented to George in 1832 when he was 41.
Emma Speed, who recently turned 50, and her son, Monty, aged 8, presented the cup, which they have on loan, to the Mayor of Blackburn with Darwen, Councillor Jim Shorrock.
Emma is seeking to raise the £1,200 needed to buy the silver cup given to her famous ancestor through crowdfunding.
The cup was located at a Bristol Jewellers. After researching the name on the antique, they discovered Emma's three-year journey to explore George's past online, and decided to contact her.
Emma's goal is that the cup will eventually make its way to Blackburn Museum where it will be free for all to see as a key part of Blackburn's history.
George Dewhurst was accused of high treason and imprisoned for two years for his efforts to improve the lot of working people.
Emma and UCLAN animation student Beth Joy have also produced a short film depicting how George was arrested for High Treason shortly after the Peterloo Massacre in 1819.
Peterloo took place at St Peter's Field in Manchester on August 16, when cavalry charged into a crowd of 60,000–80,000 who had gathered to demand the reform of parliamentary representation.
The history of Peterloo was also brought to life last year in a film directed and written by Mike Leigh.
Emma and Beth's film, narrated by Emma's son Monty, was premiered as part of the Peterloo commemoration. Emma also played it for the Mayor during their meeting last week.
The Mayor of Blackburn with Darwen, Cllr Jim Shorrock, said:
It is always a real pleasure to welcome our Citizens to the Mayor's Parlour, and meeting with Emma and her son, Monty, is no exception.

George's Silver Cup is a key part of our local history, and bringing such an important item back to its home town is a great achievement.
Emma said:
Meeting the Mayor has been a privilege for me and my son, Monty, and we hope that it will bring us a step a closer to bringing George's cup back to Blackburn.

I think it has been a fitting tribute to George and the tireless work he did for the working classes of Lancashire.
You can help by donating at Emma's crowdfunding site.