Published Thursday 7 July 2016 at 15:01
Resilient pupils were given a chance to horse around after getting top marks on a special emergency training course.
The Year 5 children at St Francis Primary School in Blackburn took part in the first Schools Community Resilience Project in the area, and were treated to a special visit from two of Lancashire Constabulary's mounted police officers and their horses at the school.
The children and teachers spent the afternoon with the mounted police officers and their horses, named Guild and Gisburn, who showed off their canters around the school field and let the children feed and stroke them. The police officers also answered questions from the pupils.
The police officers also 'arrested' Year 5 teacher Simon Wootton, who said:
The children really enjoyed this project, they found the subject very engaging. Learning about different emergencies and reactions to them helped them to feel very grown up and they had some fantastic ideas as well."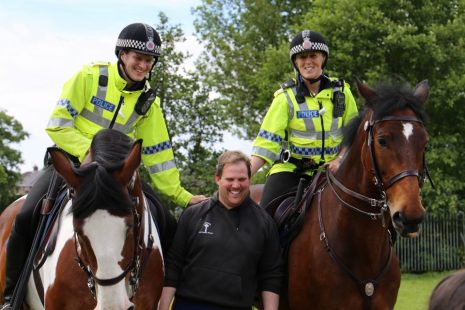 During the project, which is run by Blackburn with Darwen Council in partnership with local emergency services, the class took part in workshops which included learning about keeping calm in an emergency, making their own home safety plans, educating their parents and family and learning about the roles of the emergency services and Local Authority in emergency response.
They also looked at the school's preparation for emergencies, discussed national and international emergencies such as floods and earthquakes, and had the chance to hold a 'Question Time' event with officials from the Council and the emergency services.
Activities included a 'grab bag' game where they had three seconds to decide what to take with them and put in a bag when an emergency hit.
A second pilot is now running at two more schools in the borough – St Barnabas and St Pauls Primary and St Michael and St John Primary. The project will then be available to all primary schools in Blackburn with Darwen from September.
Councillor Andy Kay, Blackburn with Darwen Council's Executive member for Resources, said:
It is important to give young people knowledge and tools to cope in an emergency situation, and this project is a great way to do it. I hope the other schools across the borough enjoy it as much as St Francis's did."