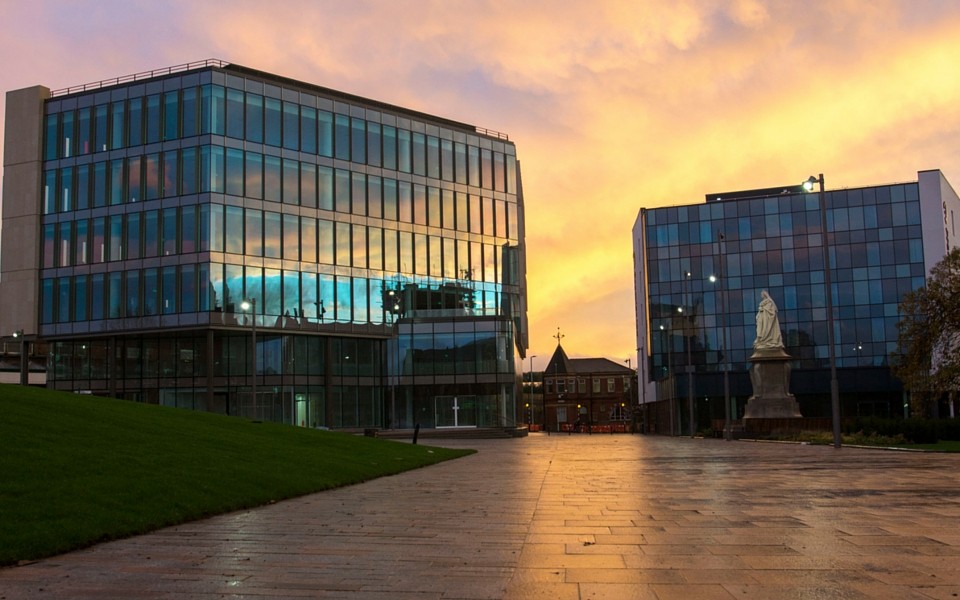 Published November 16, 2015 at 15:01
The Council has welcomed a high number of inquiries from firms interested in relocating to brand new grade A offices at Blackburn's stunning Cathedral Quarter.
Chief Executive Harry Catherall revealed significant interest in the newly constructed six-storey office building, One Cathedral Square, as it was unveiled to development partners and businesses at a celebration event.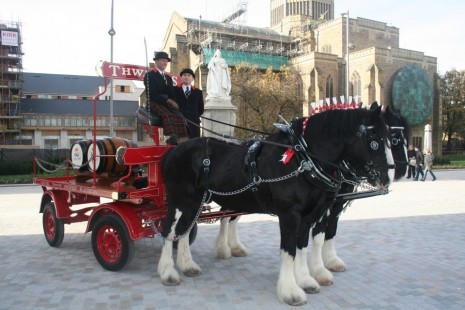 Thwaites brewery dray horses at Blackburn's newly completed Cathedral Quarter
The event marked the completion of the £30 million development by Blackburn with Darwen Borough Council, Blackburn Cathedral, Maple Grove Developments, the Homes and Communities Agency and the European Regional Development Fund.
Harry praised the commitment and determination of partners to turn their vision for the Cathedral quarter into reality, saying:
Partners have presented a most magnificent development around the Cathedral office block of a specification not matched anywhere in Lancashire. It is the sort of thing you would see in places like Manchester and Leeds, but available at half the price you'd pay in a big city.
The building was officially declared open by former Blackburn MP Jack Straw, now chair of Blackburn Youth Zone, who said the Cathedral Quarter had transformed Blackburn, giving it the feel of a city.
He added:
Those of us who remember the old boulevard will remember it was looking very tired and run down and it has been transformed through the vision that the Council and partners had.
John Wilson, managing director of Eric Wright Construction, added:
The high level of tenant interest is testament to the quality transformation of this scheme, which is great news for Blackburn.

The sustainable Grade A office block, One Cathedral Square, was the first building of its kind to be completed in the town centre for 20 yearsand the inward investment it generates from new occupiers will deliver considerable economic benefits for the local area and beyond.