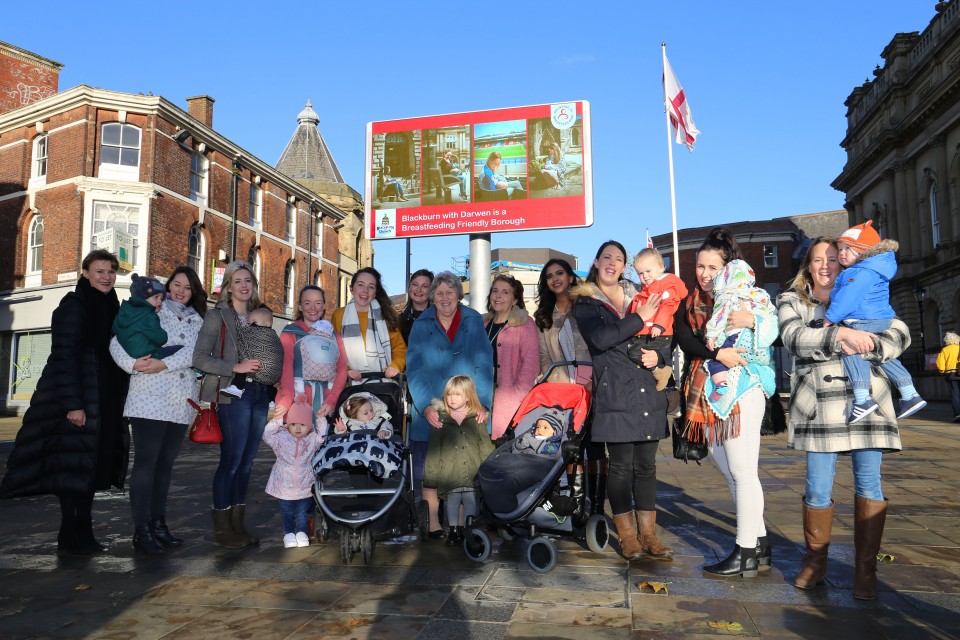 Published Monday 12 November 2018 at 10:45
Blackburn with Darwen has today become officially 'breastfeeding friendly', meaning mums who want to breastfeed out and about in the borough can do so with full confidence.
The breastfeeding-friendly initiative is being launched by Blackburn with Darwen Council and East Lancashire Hospitals NHS Trust, whose Baby Friendly team help mothers across the borough to take the first steps with breastfeeding.
The commitment made as part of becoming a breastfeeding friendly borough includes supporting local businesses and public transport partners to provide environments where mums feel encouraged to breastfeed if they want to; working with leisure centres, restaurants and shopping centres to welcome breastfeeding mums; providing access to a network of local mums who can provide peer support, encouragement, advice and support to new breastfeeding mums and encouraging the general public to be supportive in any of these environments.
The move to a breastfeeding friendly borough would also not be possible without the support of local infant feeding peer support volunteers who support the community all year round.
Four of these breastfeeding advocates are fronting a billboard campaign as part of the launch featuring pictures of them breastfeeding their babies in recognisable locations across the borough including Ewood Park, Blackburn Cathedral, Darwen Town Hall and Blackburn Town Hall.
Posters of more of the volunteers breastfeeding in other locations such as Witton Park, Darwen Library Theatre and Sunnyhurst Woods have also gone up in locations all around the borough to help enforce the message of the campaign.
Cards welcoming people to the breastfeeding borough have also been handed out and placed around public places with breastfeeding mums, and others, encouraged to pick one up and pass it on to show people breastfeeding is welcomed in Blackburn with Darwen.
A range of publicity is planned for the launch including a series of videos where the mums fronting the campaign use their own experiences to debunk some of the myths that exist around breastfeeding. You can view them all now below:
Myth 1 , Myth 2, Myth 3, Myth 4 , Myth 5, Myth 6 
A separate launch video is also now live which you can see below.
Fatima Nisar, one of the infant feeding peer support volunteers fronting the campaign, said:
I think it's brilliant. I think it will encourage more mums to really get out there and not worry about venues and locations or where you're at because Blackburn with Darwen is doing this. I think it's really important for mums like me.
Councillor Maureen Bateson, Executive Member for Children's Services, said:
Our goal in becoming a breastfeeding friendly borough is to emphasise that any mums that wish to breastfeed in Blackburn with Darwen are welcome to do so without worrying what other people might say. This isn't about saying all new mums should breastfeed but that mums and babies come first and we want them to feel supported when out and about across the borough.
Councillor Jackie Floyd, Assistant Executive Member for Health and Adult Social Care, said:
I'm proud that, as a borough, we are making a strong stand on this fundamentally important issue and enabling breastfeeding mums to let their babies be 'well-fed' right from the beginning of their lives. Breastfeeding provides natural immunity for babies from infections and illnesses, as well as providing certain health benefits for mums. My message to residents in the borough is to be fully supportive of this initiative and of breastfeeding mums and families.
Angela O'Toole, Head of Maternity Services for East Lancashire Hospitals NHS Trust said:
Breastfeeding rates in Blackburn with Darwen have never been higher, with most new mothers breastfeeding their babies in the days and weeks after birth. We fully support a high profile campaign such as #BreastFeedingFriendlyBwD which lets everyone know that the borough is 100 per cent behind breastfeeding.