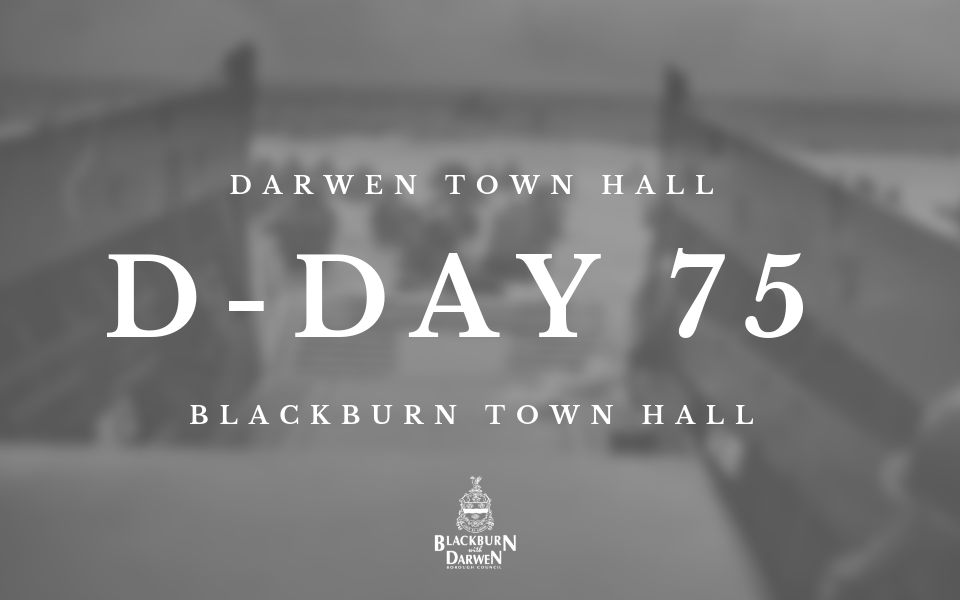 Published Tuesday 4 June 2019 at 20:30
The Mayor of Blackburn with Darwen and the Deputy Mayor will attend short ceremonies to mark the 75th anniversary of D-Day on Thursday 6 June.
Two civic ceremonies will be held, each starting at 11am:
The Mayor, Councillor Jim Shorrock, and Mayoress will lead a ceremony outside Blackburn Town Hall.  The Mayor will give a short speech, and Westholme School student Saoirse O'Neill will read a war poem, Little Ships.
The Deputy Mayor, Councillor Iftakhar Hussain, and Deputy Mayoress will be present at a ceremony outside Darwen Town Hall. Arrangements for Darwen's ceremony have been made by the Darwen branch of the Royal British Legion.
Silences will be observed as the Royal British Legion's 75th anniversary D-Day flag is raised above both Town Halls.
The ceremonies will be attended by councillors, senior Council officers and representatives of the armed forces. Some school groups have been invited to attend.
D-Day this Thursday marks the 75th anniversary of the Normandy Landings, on 6 June 1944. On this date, Allied forces launched a combined naval, air and land assault on Nazi-occupied France. The landings on the Normandy beaches marked the start of a long campaign to liberate north west Europe from German occupation.
The Mayor of Blackburn with Darwen, Councillor Jim Shorrock, said:
It is so important that we mark this special anniversary of D-Day to remember the bravery of the troops and to commemorate the lives that were lost at the invasion.

As a former serviceman, it fills me with pride to represent the borough at the ceremony outside Blackburn Town Hall.
Members of the public are welcome to attend the short ceremonies outside Blackburn Town Hall and Darwen Town Hall at 11am on Thursday 6 June.