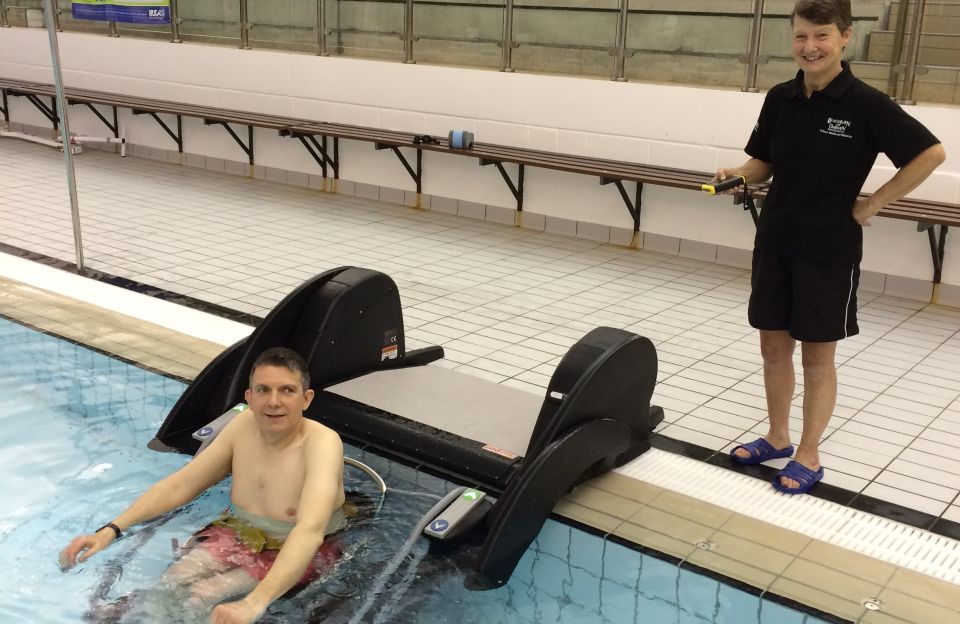 Published Wednesday 14 January 2015 at 15:40
Swimming Pool access has been improved for people in the borough with disabilities.
Darwen Leisure Centre is launching a new poolside lift to help those with mobility problems get into the pool. The centre has always had good access arrangements with ramped steps and rails and two poolside hoists, but the new PoolPod lift will allow customers to control the lift themselves rather than ask a lifeguard for help.
Blackburn with Darwen Council received a £10,000 grant from the Get Equipped Programme run by Sport England to trial this new unit.
The Poolpod was developed for the Olympic Delivery Authority and so far there are a limited number of units across the Country. The Pod provides dignified, independent access to swimming pools. It is designed for any swimmer who finds using a pool ladder inappropriate. Ascent, descent and depth are user defined using a button free RFID proximity wristband.
So far the Pod has been mainly used by the Motivate Group who have sessions every week at Darwen Leisure Centre.
Kate Medd, Motivate Instructor, said:
The pool pod frees up much more time for the instructors, it's a straight transfer back to the changing rooms, gives much more independence for the user, less time consuming and more user friendly.
Regular disabled user Renny Pett from Darwen added:
It's a smoother and quicker transition, much more independent and far easier to use.
Councillor Damian Talbot, Executive Member for Leisure, Culture and Young People added:
We are committed to improving the health and wellbeing of our residents by increasing the number of leisure and sports activities that they can access. This fabulous piece of equipment will enable more disabled users to access the pool for themselves and will give them more independence .
Lisa O'Keefe, Sport England's Director of Insight, says:
We know that many organisations and clubs delivering sport struggle to provide sporting opportunities for disabled people because of a lack of access to specialist equipment. We are delighted to award these vital funds to Blackburn with Darwen Borough Council which will play a transformative role in opening up sport to many people who previously found it inaccessible.'
The award is part of Sport England's 'Get Equipped' fund which was designed to build on the success of the London 2012 Paralympic Games. £1 million of National Lottery funding is being distributed to organisations across England to allow them to provide specialist equipment which will help make sport a practical choice for many more disabled people inspired by the Games.
The number of disabled people playing sport regularly is on the rise. In December, Sport England's Active People Survey – an annual, in-depth measure of the nation's sporting habits – revealed that a record number of disabled people in England now play sport each week. The number of disabled people aged 16 and over playing sport once a week has increased by 62,000 over the last year, bringing the total number to its highest recorded figure of 1.67 million, 351,000 more than in 2005 when London won the bid to host the Games.
 However, non-disabled people are still twice as likely to play sport as disabled people (39.2 per cent compared to 18.5 per cent) which is why Sport England continues to focus attention and investment to address this imbalance.