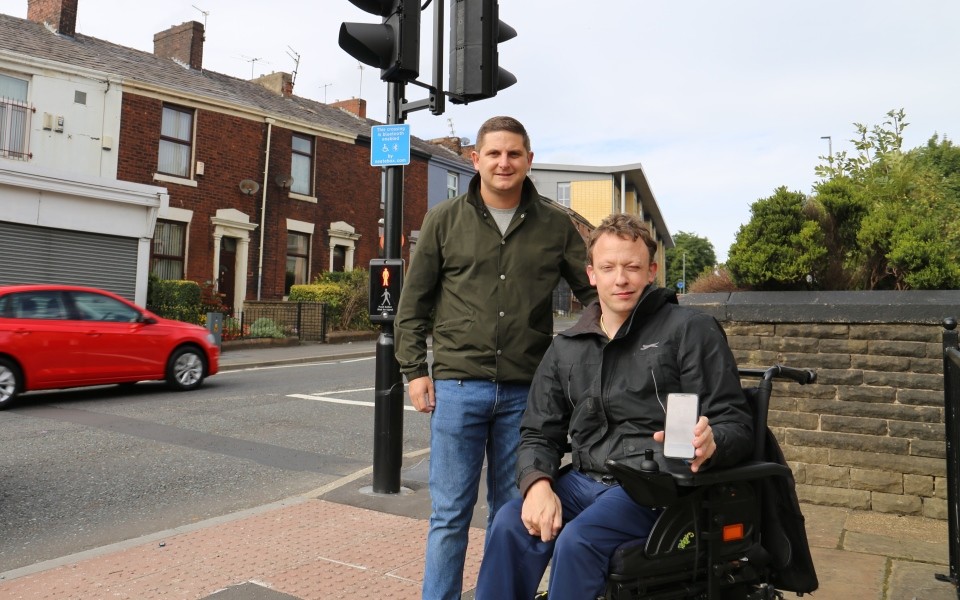 Published Wednesday 12 September 2018 at 10:58
Blackburn is the first place in England to install new technology to help people with disabilities who struggle to press the button at pedestrian crossings.
The crossing on Longshaw Street, Ewood, can be activated with the free Button mobile phone app.
This makes it easier for people with mobility or visual impairments, including wheelchair and mobility scooter users, who may struggle to reach or see the button at a crossing.
The Bluetooth technology developed by Edinburgh company Neatebox has already been installed at several crossings in Scotland but this is the first time that it has been used in England.
Councillor Jamie Groves, Blackburn with Darwen Council's Assistant Executive Member for Regeneration and Ewood Ward councillor, said:
It is important that everyone can get about safely and easily but this can sometimes be difficult for pedestrians with disabilities.

When the Longhsaw Street pedestrian crossing had to be replaced because of damage, we thought that it would be an ideal opportunity to install this innovative technology which we hope will help to make our borough safer for everyone.
Capita, which provides highways services for the council, hopes to roll out the technology as it carries out routine upgrades of other pedestrian crossings.
Councillor Groves added:
We are no stranger to innovation in Blackburn and Darwen. We also led the way in installing wireless traffic sensors at traffic lights to cut installation, maintenance and replacement costs.
Neatebox was founded in 2011 by former guide dog mobility instructor Gavin Neate. He said:
I was fed up watching my clients struggle to find and press the crossing button. It made perfect sense to find a way in which their mobile phone could do it for them.
Button by Neatebox is available for android and iPhone from Google Play and the App Store.