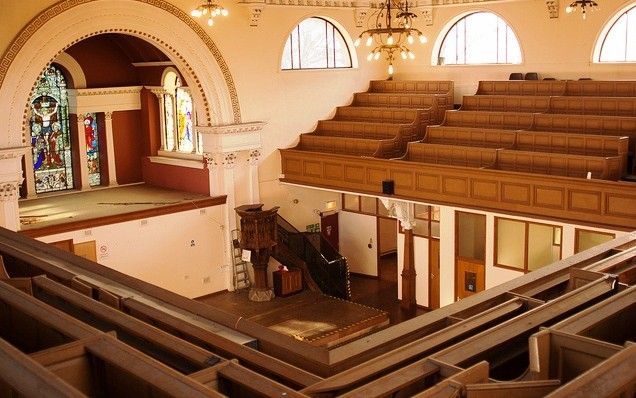 Published Tuesday 10 February 2015 at 16:48
The Bureau – Centre for the Arts is Blackburn's newest arts venue and to celebrate the setting up of this exciting new venture it is flinging open its doors to invite people to Get Creative.
Run by local artists and creatives 'The Bureau', is based in St Johns Church on Victoria Street, which was formally a Citizen's Advice Bureau and the inspiration for the new centre's name.
To introduce residents and visitors to the new venue which will play host to events, exhibitions and workshop, a one day celebration of creativity is being staged on Thursday, February 19.
Running from 10.30am until 5pm it will feature live entertainment, demonstrations and activities in everything from printmaking to lampshade making, singing to circus skills.
Local maker Cath Ford will run a 'have your say' drop-in session at 10.30am and the Love and Etiquette Foundation will host demonstrations by three artists including Nadeem Baghdadi a calligraphy artist who uses traditional techniques from the Islamic and Chinese tradition of mark making.
In addition, Somewhereto_  that provides artistic opportunities for young people will organise performances throughout the day and advise young people on the work that they do.
SLYNCS, a Blackburn based youth organisation, will also be on hand to speak to young people about they want to see take place at 'The Bureau'.
The event will be followed by a Get Creative themed ArtSpace, the monthly meet-up for artists, which will run until 10pm and feature live entertainment from a variety of performers including Blackburn People's Choir and singer songwriter Ian Hodgson.
From 7.30pm an Art Auction of work donated by local artists will be held to raise money for the new venue. Donations can be viewed at www.bureauartauction2015.wordpress.com/
Local artist and board member, Kerris Casey St-Pierre, said: "This is our first major community event and a pre-launch for  the Centre for the Arts. We really want people to come along and get involved in being creative and having fun, but we also are really interested to hear what people would like to get from an Arts Centre in Blackburn."
A second event called Get Involved will take place on Saturday, March 14 where anyone who wants to get more involved can come along and meet the team.