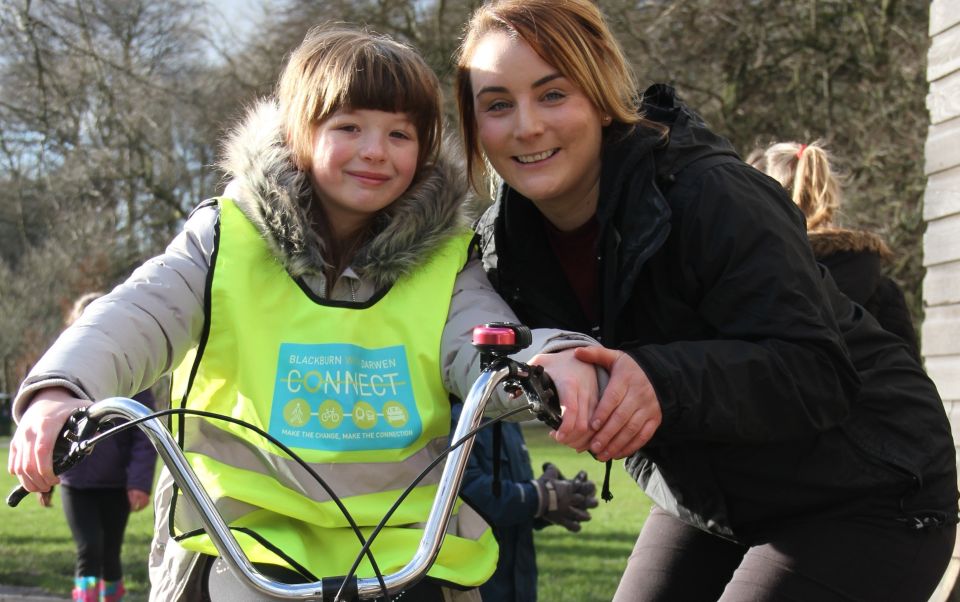 Published Thursday 12 February 2015 at 13:58
A bike donation scheme has helped a nine-year-old Blackburn girl get back into the saddle and learn to ride.
A new community group, The Young Weavers, donated 22 bikes to be used by children and their families in and around the borough.
Jessica Culley's mum Christine donated her bike to the appeal after she struggled with balance problems that prevented her from learning to ride.
And thanks to her act of kindness, staff at Witton Park returned the good deed by donating a specialist trike to help Jessica, a pupil at St Luke's and St Philip's Primary School, learn to ride.
 Christine said: "Jessica had only used the bike she got last Christmas once so when we heard about the appeal we were really pleased that it could be used for a good cause.

"We cannot thank the Young Weavers and the staff at the cycle centre enough, this has and will continue to make a real difference to Jessica's development but most of all it has given her a real sense of independence.

"Being able to watch Jessica zooming around on a bike the way all children should is priceless.

"The Young Weavers are a great group for the community who fully embrace a true community spirit."
The bike 're-cycle' campaign was set-up over Christmas in a bid to offer families a way of getting fit and enjoying family time for free.
Transport company Transdev manager Kevin Riddehough and his wife Vicky recently launched the Young Weavers group, a family friendly activities club in a bid to get more children and families taking part in outdoor fun.
The couple launched the campaign calling on people to donate children's bikes so families can cycle together around Witton Park.
Kev said: "We are delighted to have been able to hand over so many bikes that people can come along and use for free at Witton Park's Cycle Centre.

"We have also teamed up with Burnley charity Fresh Fields, which puts on events for people struggling with disabilities and have donated a number of the bikes for their use."
The couple launched The Young Weavers group to make the most of bike rides with daughter Summer, eight, after struggling to find groups and clubs that encouraged family friendly opportunities in the area.
The group, is being supported by the Council's Connect project, a scheme set-up to promote sustainable transport in the borough.
Kev said: "Our main emphasis is on family fun, improving the health and wellbeing of everyone in the borough, getting out and about together on a regular basis.

"We would like to say a heart-felt thank you to everyone who donated a bike and I would like to thank Vicky for her idea and taking the time to go and collect the donated cycles."
The bikes, along with their current adult cycles, will be available to all Beez leisure card holders at Witton Park.
These are available for anyone who lives, works or studies in the Blackburn with Darwen borough.
Councillor Maureen Bateson, Executive Member for Regeneration, said: "It was great to meet the group and see how this appeal is going to benefit so many people in and around our borough. These bikes will compliment the superb adult cycle facility already in place at Witton Park.

"I hope this initiative will make a huge difference to the children and families in our borough who currently don't have access to bikes.

"As a Council we are really keen to encourage more groups like this and will do what we can to support them."
If you would like any further information on the group please contact either Vicky or Kevin at: theyoungweavers@gmail.com