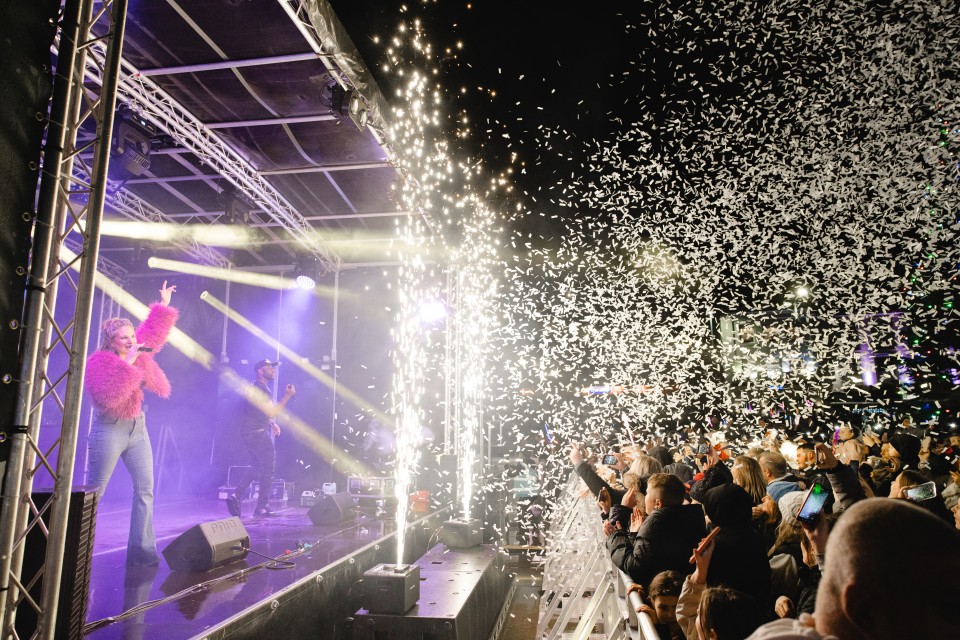 Published Monday 20 November 2023 at 12:26
Darwen's Christmas lights switch-on has been hailed the 'best ever' by crowds who turned out in their thousands for headliners N-Trance.
The Market Square was full, with revellers also lining up Railway Road, for the packed programme of live entertainment, topped by the popular 90s dance act.
Joined on stage by dignitaries, the crowd cheered as they officially turned on the lights before singing their iconic club classic 'Set You Free.'
And, in a change to the programme for 2023, the live entertainment – which had run right through from 2pm – continued with crowds dancing in the rain to 'rave band' Mr Wilson's Second Liners.
Hailing the event a huge success, Councillor Quesir Mahmood, Blackburn with Darwen Council's Deputy Leader and Executive Member for Growth and Development said:
Wow! The feedback for the lights switch on has been brilliant with many saying it was the 'best ever!'

This event is always a real highlight of the year for the town and we work hard each year to make it even bigger and even better and this event ticked both of those boxes and more.

I'd like to thank the crowds who braved the good old Lancashire weather and turned out in their thousands – what a fantastic atmosphere there was with headliners N-Trance proving a real hit all round.

Of course, a massive thank you must also go to all those behind the scenes, our officers who work tirelessly to make sure it is a huge success along with event organisers, Crafty Vintage and the support from our fellow sponsors, Darwen Town Council too.

What a way to show our town at its best and get in the Christmas spirit!
The Mayor and Mayoress of Blackburn with Darwen Council were joined on stage by the Mayor for Darwen and the Council's Assistant Exec Member for Growth and Development for the big switch on with host Kiki deVille just after 6pm.
Earlier in the day, the stage had been busy with singers, dancers and even the big man himself, Father Christmas who'd be entertaining hundreds of children at his sell-out Culturapedia story-telling sessions in Darwen Market.
And, the popular festive markets were busy throughout the day too and in a further boost to the programme, the live entertainment also stretched up Bridge Street too.
Mayor of Darwen Town Council, Councillor Stephanie Brookfield said:
Once again, Darwen has done its self proud with this amazing Christmas lights switch on event.

To be on that stage and see all those thousands of people enjoying themselves was just fantastic – a real credit to everyone involved in the planning.

What a way to start the countdown to Christmas with this free event for everyone to enjoy.
A new 'Discover Christmas in Blackburn with Darwen' campaign encouraging people to support our town centres this festive season will launch this week.
You can find out more – including a full guide to what's on – by clicking this link now.
Laura Johnson, from event organisers Crafty Vintage said:
The bar is always incredibly high for Darwen with record crowds turning out year-on-year.

Incredibly, we managed to top that this year with N-Trance and the response has been amazing. It's been brilliant reading all of the feedback and comments.

I'd like to thank everyone who worked so hard to make it such a success, including our many performers throughout the day. Darwen is bursting with talent.

For Crafty Vintage, this is just the start of our Christmas programme and what a start it was! We look forward to seeing more people at our many events over the coming weeks.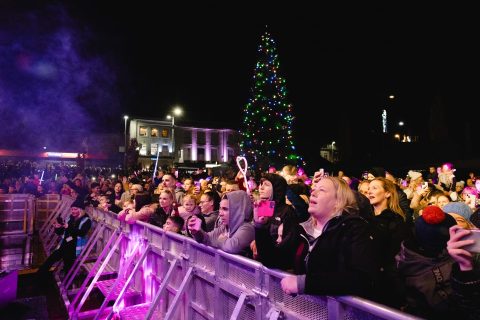 To find out more about all Darwen town centre has to offer, please visit: www.darwentowncentre.co.uk
Blackburn's Christmas lights will be turned on this weekend – Saturday, November 25th.
The 'From Broadway to Blackburn: Christmas Lights Switch On Spectacular' will feature a day of amazing dancing and singing performances on a huge stage on King William Street, bursting with music from hit musicals of the stage and screen.