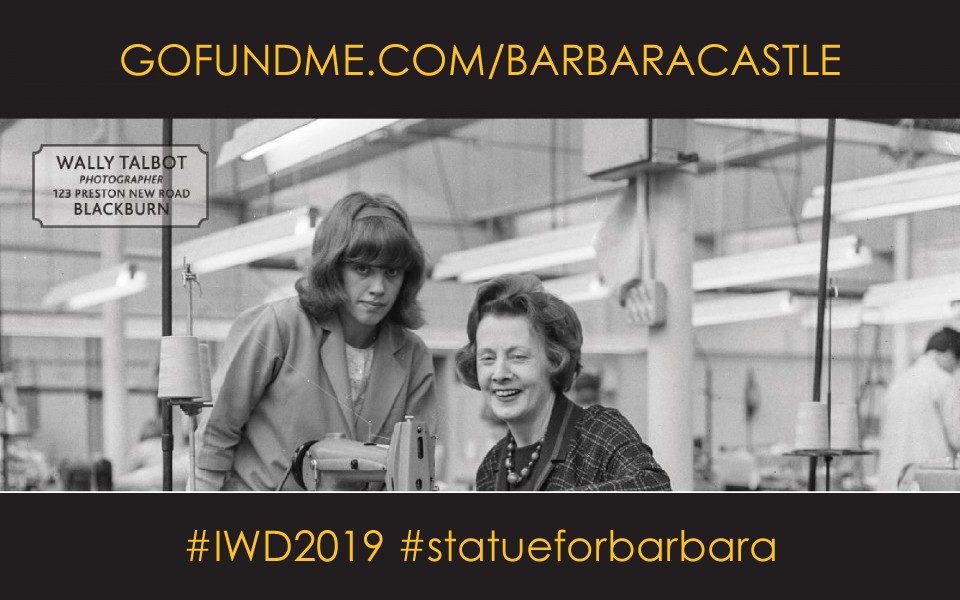 Published Friday 8 March 2019 at 9:00
Barbara Castle's memory is in the spotlight today on International Women's Day as her inspirational messages and achievements continue to be promoted around Blackburn and Darwen.
The campaign has gone live on digital screens, bus shelters, and all over social media this week in the lead up to today's International Women's Day. Other inspirational women that have had an influence in Blackburn and Darwen are also being celebrated.
Blackburn with Council has also launched a funding drive to build a statue of Baroness Castle to celebrate the contribution she made to the borough, which she served as MP for 34 years, and the country as a whole.
The statue will be made in high quality bronze and stand proudly in Jubilee Square, where Barbara would have often passed on her constituency business.
The aim is to have a celebratory unveiling on 6 October  2020 what would have been Barbara's 110th birthday.
There have been other events supporting International Women's Day across Blackburn with Darwen throughout the week.
Blackburn Youth Zone's campaign 'Strong Sisters' explored the heritage of successful women throughout history with the aim of inspiring young women in Blackburn and Darwen today.
Cllr Maureen Bateson was interviewed by BBC North West Tonight at Blackburn Museum for International Women's Day, taking a look at Barbara Castle's dresses, and covering the memory of Barbara and her unique style. Look out for it on BBC North West tonight.
Council Leader, Mohammed Khan, said:
Blackburn is the natural place for this statue; it will be a fitting tribute. I'm very much looking forward to seeing it standing proudly in our town centre.  I'm sure it will be enjoyed by local people of all ages and also tourists with an interest in high quality statues of exceptional people.
Anyone with any memories of Barbara are also being encouraged to come forward to share them and any memorabilia they might have.
Members of the public are invited to contribute towards the statue via GoFundMe where you can leave a donation.
The creation is expected to become a national tourist attraction and a valuable addition to the borough's collection of art.
For more information or if you would like to leave a larger donation contact Julia Simpson at julia.simpson@blackburn.gov.uk or call 01254 588598.