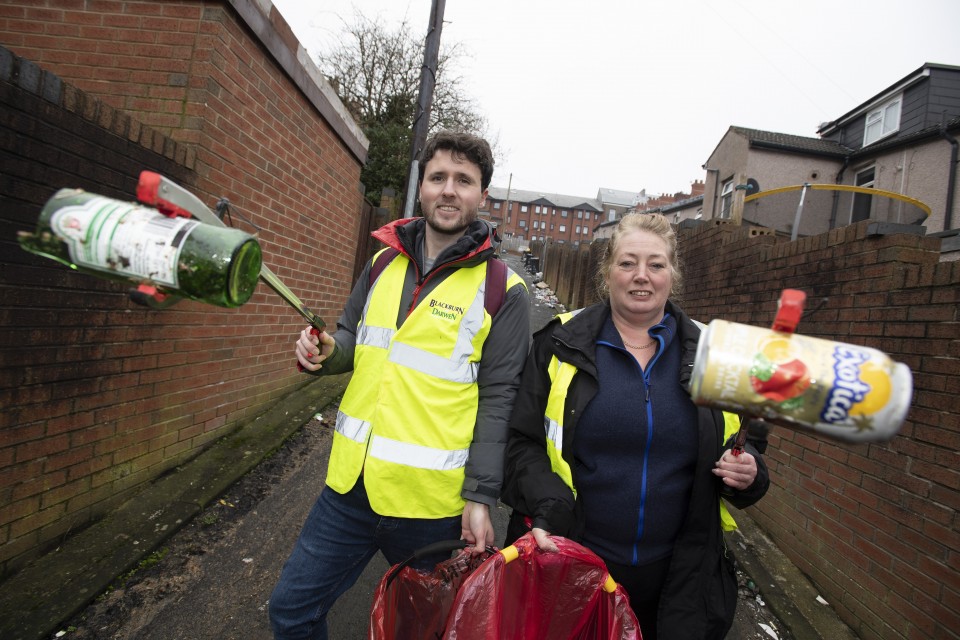 Published Tuesday 21 May 2019 at 12:29
There's a revolution in Blackburn with Darwen – a Red Bag Revolution!
Have you ever noticed a stack of red bags at the side of the road?
While we have our hardworking teams that fill them – there's also an army of volunteers pitching in to help rid the borough of litter and dumped rubbish.
And, between them they've filled more than 20,000 bags – and even had Radio 2's Jeremy Vine wishing they lived near him.
But, if you think these volunteers are 'just' litter pickers, then think again!
They're on a personal crusade to have the borough looking its absolute best.
And, while that does include giving up hours of their own time to help pick up litter – it doesn't just stop there.
They're knocking on doors and 'educating' residents on how best to dispose of their waste, they're offering a community of support for thse who want to make a real difference to where they live, they're making up their own 'languages' and even reuniting residents with their lost bank cards and mobile phones.
Although, there's a set of dentures that funnily enough never did get reclaimed!
For Keep Darwen Tidy, it's not even just about people either.
The group's founder, Janet Pearce, has also roped in black Lab, Rosco – now affectionately known as 'Darwen's litter picking dog'.
"Of course, litter picking isn't a new thing," she said. "I've been doing it for years, but I used to see myself as a bit of a lone wolf.
"I decided to create a Facebook page in a bid to try and inspire others, but even I couldn't have guessed it would now have more than 1,300 followers in just a year.
"For me, it's amazing that this community of volunteers has come together and to see the overwhelming sense of pride for our town and the determination to keep it clean.
"It is sad that there is litter on the streets, but it's incredible to see people of all ages, young and old, out and about filling their red bags – doing their bit."
While Janet isn't paid for her work as a volunteer, Rosco is rewarded handsomely with his favourite biscuits and gravy bones.
"I gave him a biscuit as a reward when he first started and he's not daft – I now need pockets full!" she laughed.
Janet is out every day helping litter pick, spot problem areas and regularly posts to Facebook educating others on what they can do to help.
"It's not all about the litter," she said. "It's about getting people to change their ways and considering the impact of what they are doing – whether that's how it affects other people, the environment or wildlife.
"It's as simple as encouraging people to think about what they are buying and how they can recycle?
"What it boils down to really is just being a good neighbour and we can all do that!"
In Blackburn, Councillor Jackie Floyd and her friends Heidi Whittle-Pugh and Tracey Padia were over the moon when Jeremy Vine tweeted – recognising the hard work of their group – Keep Blackburn Tidy.
"That gave us a real flip," Jackie said. "Jeremy saying he wanted us to live near him – that was something else!"
The group have been out filling their red bags, arming themselves with buckets of soap and water to clean street signs and even challenged residents to have a 'rubbish date' for Valentine's – spending it litter picking, of course!
"It's a social movement," Jackie added. "There's absolutely no doubt about that.
"We're not sat around having monthly meetings – we just get out there and do it – supporting each other along the way.
"We're even using our own language around waste.
"For us if there's black bags left in a back alley week-in-week-out it may not necessarily be fly-tipping, our first thought is that it could be a 'misunderstanding.'
"We'll happily knock on doors and offer to help – it may be that the resident is new to the area and doesn't know which bin to use or what should go where. We're trying to make it about the positives."
While Jackie is pretty new to the litter picking scene, her husband Bob has been 'sproting' for more than 40 years.
"Sprot," she added. "That's another of our terms – some people's rubbish is other's treasure.
"He comes back with all sorts – although the 25lb of raw meat has to his most unusual find!"
The group have one simple motto too: 'Right bag, right bin, right place!'
"It's so simple," Jackie said. "We're like the Scouts or the Girl Guides – always prepared!
"Our ultimate goal is to not have the litter in the first place and the Red Bag Revolution is about changing behaviour – not just giving a nudge!'
One person who couldn't be prouder of the volunteers is Leader of Blackburn with Darwen Borough Council, Councillor Mohammed Khan OBE – who has been keen to pitch in at the community clean-ups.
"This is our Your Call initiative at its very best," he said. "These volunteers are a real credit to the borough and the work they are doing is invaluable.
"What impresses me most is their drive to prevent litter being dropped in the first place – which is incredibly frustrating as it's a real blot on our borough and just shouldn't be happening.
"I believe we should all be more like these volunteers – proud of where we live and good neighbours."
Join the Revolution today
Sign-up now and we'll send you your very own kit with litter picker, bags, hoop, gloves and bags.
You can also join the groups on Facebook – search Keep Blackburn Tidy/Keep Darwen Tidy.