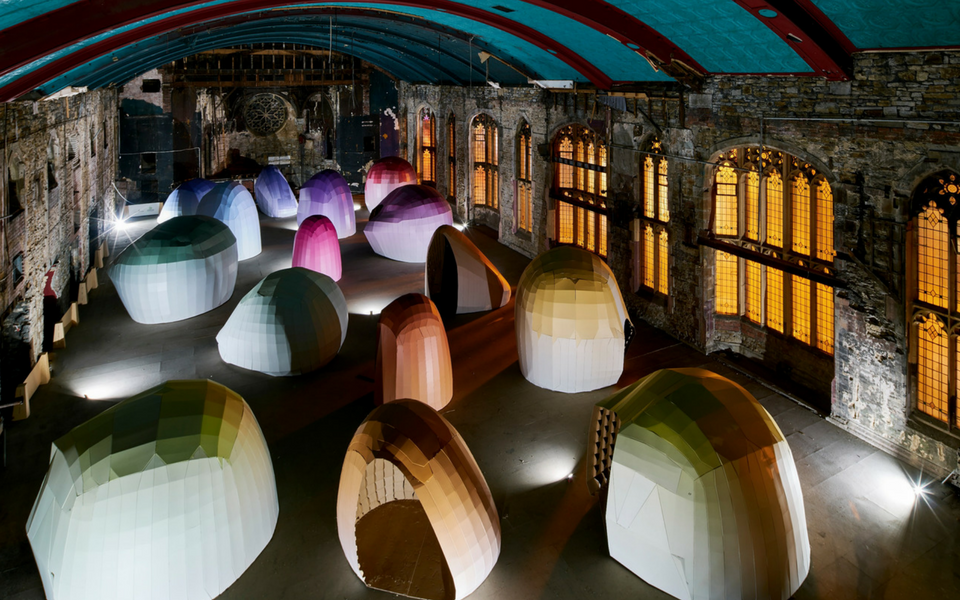 Published Tuesday 10 April 2018 at 15:39
The second year of a groundbreaking partnership between artists and leading manufacturers to produce unique commissions is set to return to this year's National Festival of Making.
The pioneering project, Art In Manufacturing, will be a key feature at The FREE National Festival of Making in Blackburn, between Sat 12 – Sun 13 May 2018.
Seven specially commissioned artists will each take to the factory floor of busy manufacturers to create ambitious new works of art that will be displayed at the two-day festival.
A soundscape experience in an eerily abandoned ballroom, the full-bodied embrace of a wallpaper mill's colour capabilities, a cardboard cinema and the wholesale movement of tons of industrial machinery will all feature in the festival.
Introduced for the first time last year, Art In Manufacturing's groundbreaking approach resulted in the internationally-acclaimed sculptural installation Chromatogram, a collaboration between Manchester-based creative studio, Lazerian and Accrington's The Cardboard Box Company, and Traysway, the humorous and heart-warming contemporary dance performance by Ruth Jones and bakers from Burnley's Cherry Tree Bakery.
The artists and manufacturers confirmed for 2018 are as follows:
Sarah Hardacre and Surface Print
Known as the industry leader for manufacturing the highest quality, innovative wallpapers and located almost equidistant between Blackburn and Burnley, Surface Print is a fourth-generation family run business in Lancashire with decades of experience in creating wall coverings using the traditional 'surface print' method, pioneered in nearby Darwen in the 1830s. While producing wallpapers for a host of influential, well-known brands, Surface Print will work with Sarah Hardacre, an artist based in Manchester and represented by London's Paul Stolper. Sarah has developed a practice that uses traditional techniques, from print to textiles, to reflect on how popular culture, the built environment and architecture has influenced and continues to shape communities. Approaching her residency at Surface Print, Hardacre has begun looking at the fabric of the factory and the machinery itself as a potential artwork.
www.1838wallcoverings.com & www.surfaceprint.com
Martyn Ware & Illustrious Company and AMS Neve
Two titans in the world of electronic music production combine as Burnley-based AMS Neve, a world-leading supplier of recording consoles for recording studios, welcomes Martyn Ware, Human League and Heaven 17 founder, as well as producer for Tina Turner, Chaka Khan and many more. Since founding Illustrious Company with fellow synth pioneer, Vince Clarke in 1990, Ware has developed and consulted on sound installation for a vast variety of projects and clients including the Venice Biennale and The National Gallery, London. For Art In Manufacturing, AMS Neve, six other manufacturers and Ware will come together to reveal the humanity and history of manufacturing through the sounds of the factory floor. The lucid, dream like piece will also explore the rich history of after-hours socialising once the factory doors have closed, paying special attention to the history of Blackburn's Tony's Ballroom, researching the venue's important past, including its role in the influential Northern Soul scene.
www.ams-neve.com  / www.illustriouscompany.co.uk
Hannah Fox and The Cardboard Box Company
Based in Accrington, The Cardboard Box Company joins 'The Art In Manufacturing' for a second year, bringing the capacity to design, print and manufacture cardboard boxes to their collaboration with Cumbria-based, community-focused artist, Hannah Fox. Embracing cardboard's innate flexibility and constructional value and methods usually preserved for the development of industrial and retail packaging design, Fox looks into Blackburn's past as home to no fewer than 15 cinemas to recall a valuable, shared social history at risk of being forgotten. Renowned for playful and impactful audience experiences, Fox's practice encompasses animation, large scale installation and detailed paper sculpture, elements planned to come together in combination as Fox and The Cardboard Company strive to create a walk-in, cinematic experience in Blackburn town centre.
www.thecardboardbox.co.uk / www.hannahonthehill.co.uk
Liz West and Graham & Brown
Established by two friends, Harold Graham and Henry Brown, in 1946 despite a severe shortage of paper during the war, Graham & Brown is now run by the third generation of the founders' descendants as one of the world's leading manufacturers of wall coverings, including wall paper and wall art products. The Blackburn-based company will work with Manchester-based artist, Liz West, whose breathtaking use of colour and light has seen the creation of unforgettable, immersive works of art for both gallery settings and the public realm. In her residency, West is presented with the breadth of printing and production facilities at the manufacturer's technologically-advanced factory, a diverse range of materials as well as an enthusiastic and committed local workforce.
www.grahambrown.com / www.liz-west.com
David Murphy and WEC Group
Headquartered in Darwen, and a major local employer, WEC Group's vast manufacturing capacity equips the company with the ability to meet any engineering requirement, providing services across a broad range of industries including aerospace, energy and marine and makes a significant contribution to civil engineering infrastructure including road and rail. Ensuring a skilled workforce, WEC Group's apprenticeship scheme is integral to their ongoing success and resident artist, London-based, David Murphy's proposed starting point is to investigate that dedication to talent development and work directly with the cohort of seven, young apprentices while living in Darwen for two-weeks at the start of the project. Working across media, including drawing, painting and sculpture, Murphy has exhibited in the prestigious John Moores Painting and the Jerwood Drawing Prizes as well showing work at national and international galleries.
www.wec-group.com  / www.davidmurphystudio.co.uk
Nicola Ellis and Ritherdon
Established in 1895, Darwen-based Ritherdon specialises in the design and manufacture of multi-purpose stainless steel electrical enclosures, from steel meter box repair units to pillars and cabinets for highways and street lighting, CCTV housing and electric vehicle-charging equipment. Ritherdon's commitment to innovative design has led the manufacturer to develop the world's first Passively Safe Road Cabinet, continuing to develop and expand its range.  Renowned for large-scale steel installations, Manchester-based artist, Nicola Ellis, is occupied by the use of metal by humans and the material's cultural impact. Often found using scavenged metals, Ellis will encounter not only the inputs and outputs of production, including waste, but also an advanced fabrication system which links fast and accurate, bulk production with technology-led design.
www.ritherdon.co.uk / www.nicolaellis.com
Dawinder Bansal and Domestic Makers
Pulling at threads developed in 2017's 'Front Room Factories', which aimed and succeeded in unearthing the most inspired and inspiring of kitchen-table and front room production lines in Lancashire's communities, Wolverhampton-based theatre producer and artist, Dawinder Bansal explores the crafts and traditions which come together to create a traditional South Asian wedding. Crossing cultural traditions, time and generations of family members, Bansal aims to collaborate, not with large scale manufacturers, but the home-based artisans and the small businesses that will have ensured a 1980s wedding in Indian, Pakistani and Bangladeshi communities went ahead with the unforgettable sensations that Bansal remembers from her youth. Calling out to the Lancashire community, Bansal will look for the day-and-night samosa makers, the stitchers of opulent outfits and intricate mehndi body artists who work together to make everything necessary for a traditional wedding – on the festival weekend visitors will be able to take part in a vibrant and communal celebration of making, trailing and testing their own making skills alongside the skilled artisans.
Funded by the Heritage Lottery Fund and produced by The National Festival of Making and community-led arts commissioners, Super Slow Way, Art In Manufacturing seeks to develop the ideas of artists in unfamiliar environments and create engaging and accessible new work. It also encourages investigation into Britain's manufacturing heritage, specifically that of Lancashire, with direct engagement from staff members in each participating company.
For more information about the National Festival of Making visit: www.festivalofmaking.co.uk