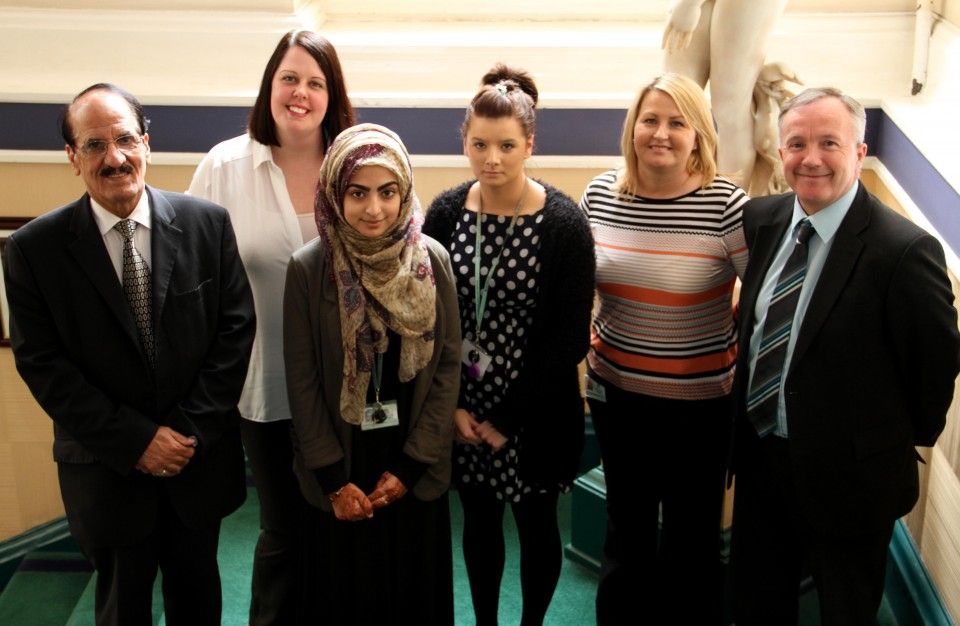 Published July 21, 2015 at 13:24
Four Blackburn with Darwen apprentices were singled in the recent Training 2000 Business Awards – and the Council also came home with a prize.
Traineeship of the Year went to Jodie Carter in Planning, and a Special Recognition Award was given to Henry Clark in Regeneration, Almaas  Osman in Families, Health and Wellbeing and Wendy Darbyshire in Childrens and Education, who were all part of the team who won £20,000 to develop a new national app for apprentices.
Harry Catherall, Chief Executive of Blackburn with Darwen Borough Council, said:
I am sure I am not alone in being full of pride at the achievements of Jodie, Henry, Almaas and Wendy and I hope they are very proud of themselves too.

They are making a fantastic start to their careers and I predict great things from them in the future."
Blackburn with Darwen Council was given the Large Employer of the Year award at the event for our work and support with the apprenticeship programme.
The award praised the Council for providing young people with the skills and qualifications they need to make a start in the world of work and for its development of the apprenticeship programme each year.
So far this year the Council has created 21 apprenticeship vacancies, which are all currently at different stages. Some have been recruited to and some are still being advertised, so there are still opportunities for young people to apply to start in October.
The Apprenticeships are in a number of different areas: Adult Services, Leisure, Children's Services, Finance, Planning, the Visitors Centre, Blackburn Market and a Joinery Apprenticeship
The Council will also be recruiting 10 Corporate Apprentices later in the year to start in January 2016 – this is a brand new scheme being launched for the first time at the Council, where apprentices will have the opportunity to undertake several different work placements within different departments during their apprenticeship to give them a better understanding of the multitude of services the authority provides and help them make an informed career choice.
Councillor Andy Kay, executive member for Resources at Blackburn with Darwen Council, said:
One of the strengths of our two towns is that we have a young and able population. The Council is committed to helping to provide them with the skills and qualifications they need to make a start in the world of work. The number of apprenticeships is growing. It's important that we recognise the efforts of those who are leading the way.

It's also great to see so much effort from both organisations and individuals enabling young people to be afforded their best opportunities. We plan to continue to find ways to build on our apprenticeship programme and hope others will do the same."
Councillor Mohammed Khan, leader of Blackburn with Darwen Council, said:
I am really impressed with all the achievements of our apprentices and very proud of these awards. I would like to say congratulations to everyone who took part, and I am looking forward to seeing what they will achieve in the years to come."
All apprentice opportunities are advertised on the Council's website: www.blackburn.gov.uk