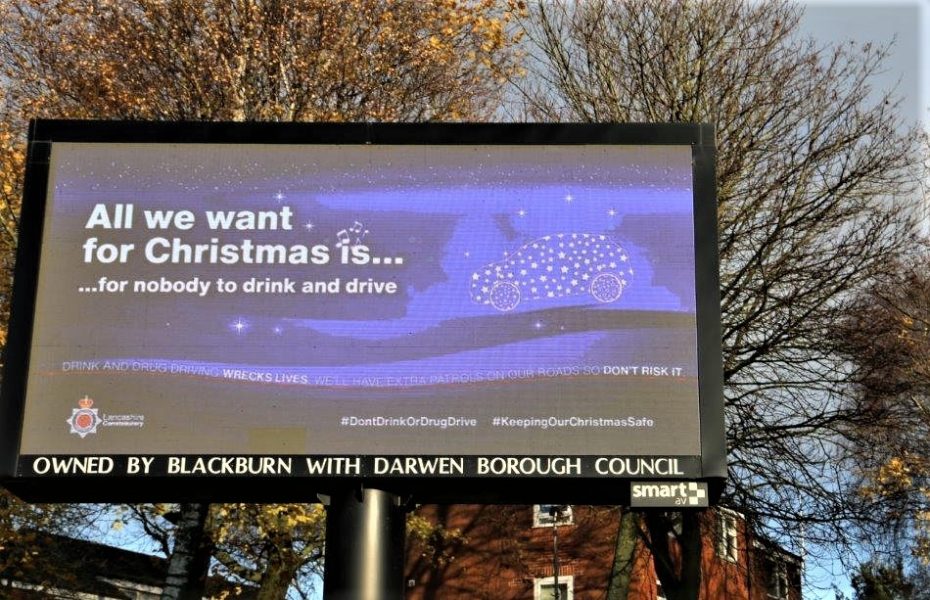 Published Sunday 11 December 2022 at 9:00
As the festive period begins drivers in Blackburn with Darwen are being urged to follow the Christmas wishes of Lancashire's road safety team – don't drink and drug-drive.
This year the #AllWeWantForChristmas campaign will be displayed on digital screens across the borough to remind drivers that drink and drug-driving wrecks lives.
Council leaders are backing Lancashire Constabulary's campaign and like them, all they want for Christmas is for people to get home safely.
Councillor Damian Talbot, Executive member for Public Health, Prevention and Wellbeing, said:
It is never worth putting your life and the lives of others at risk and one selfish act can lead to a tragedy. We are dedicated to keeping our residents safe and hope the message on the digital screens will make an impact this Christmas. Not only do we want to remind people that drink and drug-driving is harmful at this time of year, but it is reckless all year round and can kill or seriously injure somebody.

Our Safer Roads Strategy aims to reduce accidents and casualties on roads within the borough and we will continue to develop this which means safer and healthier environments for drivers and pedestrians. We remind residents in Blackburn and Darwen that it's simply not worth getting behind the wheel when you are under the influence.
Chief Inspector Matt Willmot, of the Lancashire Police Roads Policing Team, said:
We know that the majority of drivers follow the law and that it is only a small minority who choose to drink or drug-drive. However, to those people we say this: driving while under the influence is both selfish and utterly reckless and the legal limit is there for a reason. No matter how well you believe you can drive under the influence, you are putting yourself and others in danger of serious harm or death and it is never, ever worth it.

You could kill somebody, leave them with life-altering injuries, and one drink can be all it takes. To those who do follow the law, we have a request: if you know anyone who drink or drug-drives, then please tell us and we will act on it. You may save a life or prevent someone being seriously injured.

The message is simple: say no to drink or drug-driving so everybody can stay safe this Christmas.
Andrew Snowden, Lancashire's Police and Crime Commissioner said:
Those who put themselves and others at risk need to be aware officers will be out across Lancashire, looking for them.

The life changing impacts of drink or drug-driving are simply not worth getting behind the wheel. This intensification around the festive period builds on the proactive work to tackle this type of reckless behaviour all year round. Drink and drug-driving will not be tolerated in Lancashire, and I will continue to work with the Constabulary to target dangerous drivers and keep Lancashire safe.
Drivers risk up to six months' imprisonment, an unlimited fine and a substantial driving ban if they are caught driving while above the legal limit. Anyone who causes a death while drink or drug driving faces up to 14 years' imprisonment.
Andrew Duxbury, Road Safety Officer at Blackburn with Darwen Council, said:
I am pleased that we have been able to work with stakeholders both locally and county-wide to change driver behaviour and push the 'Safe Systems' approach to reduce those killed or seriously injured on our roads.

These signs will be on display over Christmas and into the New Year to make sure that drivers know that we wish for road safety, especially at this time of year. We are continuing and developing new innovative positive interventions to engage and educate our road users to make our roads safer for all.
If you do suspect somebody is drink or drug-driving call 101 or online at doitonline.lancashire.police.uk.
Alternatively, you can tell Crimestoppers on 0800 555 111 or at crimestoppers-uk.org.