Digital Totems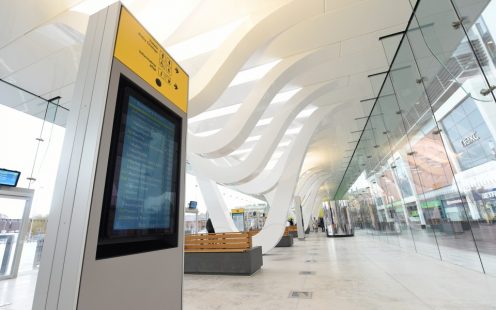 Cut through the noise with state of the art digital advertising at Blackburn's brand spanking new bus station.
We have also recently added a new screen directly outside the train station – at no extra cost.
If you're looking for opportunities to advertise or know someone who like to promote their business or service then digital advertising could be the answer.
For just £350 a month you can give your message or event pride of place on five HD digital screens in the £30 million bus interchange that will welcome around 60 thousand travellers a week.
The train station screen will be seen by 1.4 million people a year
Displayed on six high definition screens that are positioned in places of high footfall and waiting areas, your advert is guaranteed to be seen by visitors to Blackburn.
The screens are video capable and can play footage, animations or still graphics and open up limitless possibilities for creativity.
Other advantages of digital advertising include time specific adverts that allow you to choose to target people at certain times of the day.
For example, if your event is at lunch time mid-morning and lunch time events might be best for you.
Combination packages and discounts are available for block bookings.
Call the advertising team on 01254 585551 or tweet us @bwdadvertising.
Please note the HD digital screens supports the following formats: .bmp .gif .jpg .jpeg .png .avi .flv .mov .swf .mp4 .mpg .mpeg .qt .wmv with a maximum file size of 100 megabytes.