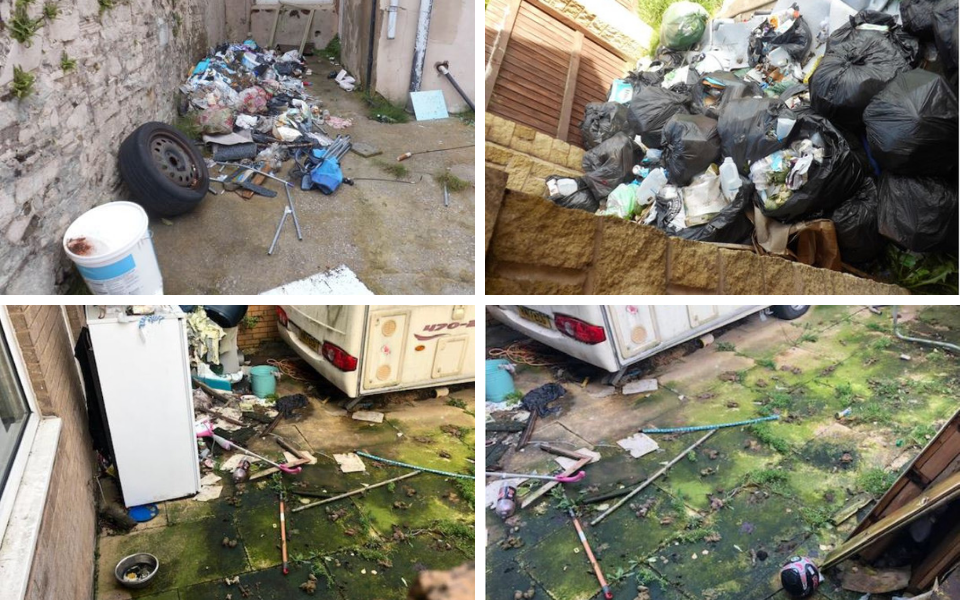 Published Thursday 7 March 2019 at 17:00
Nine people from across Blackburn with Darwen have been ordered to pay almost £8,000 in fines and court costs over dumped waste in their gardens.
Pictures show how the gardens and yards were littered with rubbish, construction waste and animal excrement – often attracting vermin and creating odour issues for neighbouring properties.
In total, seven cases were brought before the courts by Blackburn with Darwen Council with nine defendants being ordered to pay a total of £4,900 in fines and a further £2,900 in costs.
Councillor Jim Smith, the Council's Executive Member for Environment, said:
We were responding to concerns from residents at neighbouring properties who have been blighted by the issues caused by people failing to clean-up their mess.

These court proceedings were not entered in to lightly – they followed a full and thorough process during which all the defendants were offered our support and given a number of chances to right their wrongs.
The court heard how the defendants had failed to comply with a Council-issued statutory notice – requiring them to clean up the outdoor areas.
Two defendants pleaded guilty to the offences while the others all failed to attend Blackburn Magistrates Court and were found guilty in their absence.
Cllr Smith added:
We are working really hard to drive down waste issues in our borough and we also recently undertook a successful operation with Lancashire Police to crackdown on fly-tipping.

This included pulling over more than 20 vehicles to ensure they had the appropriate licenses for carrying waste.

I would encourage anyone with information about waste issues, particularly information that could us identify those responsible for fly-tipping, to come forward and help us to put a stop to it.
Those prosecuted for failure to comply with a Section 80 notice include:
Miss Tanya Carmel Roberts, 31, of Lynthorpe Road, Blackburn – fined £660 with £400 costs
Miss Katrina Pennington, 33, of Redearth Road, Darwen – fined £660 with £400 costs.
Miss Emily Doonan, 23, and Mr Jonathan McKay, 24, of St Marks Road, Blackburn – both fined £140 and ordered to pay costs of £250 each
Ms Debbie Fish, 33, of Moorgate Street, Blackburn – fined £660 with £400 costs.
Miss Jade Heaton, 24, of Livesey Branch Road, Blackburn – fined £660 with £400 costs
Miss Kelly Louise Symon, 26, of Anyon Street, Darwen – fined £660 with £400 costs
Miss Emma Bolton, 30, and Mr Alan Gosling, 42, of Buttermere Close, Blackburn – both fined £660 with £200 costs.