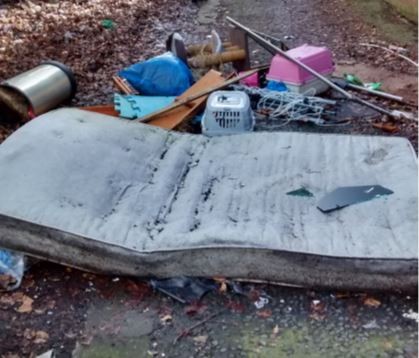 Published Friday 9 August 2019 at 15:23
A Blackburn man who offered a waste removal service on social media has been ordered to pay more than £1,000 after pleading guilty to fly-tipping.
Blackburn Magistrates heard how Jamie Mittelmeyer, of Ravenglass Close, charged £50 to clear waste from two properties in Lower Darwen after a resident there responded to a post on Facebook.
However, when the load, including an old mattress, fridge freezer and gym equipment, was reported as fly-tipping, Council officers found evidence linking it back to his unsuspecting customers.
Councillor Jim Smith, Blackburn with Darwen Borough Council's Executive Member for Environmental Services, said:
As a Council, we are committed to tackling fly-tipping and driving down the number of incidents in the borough. This includes undertaking thorough investigations and taking court action where necessary.

In this case, a resident had seen a Facebook post from Mr Mittelmeyer advertising a waste collection service. He offered to clear unwanted items from the resident and their neighbour for just £50.

Those same items were later found fly-tipped in an alleyway behind Mowbray Avenue with evidence linking the load back to the people who had paid for it to be taken away – though they believed it would be disposed of legally.
Mittelmeyer admitted to the fly-tipping after being interviewed by Council officers.
The 28-year-old was given a £400 fixed penalty notice, but failed to pay it – resulting in court action.
He pleaded guilty to the offence at Blackburn Magistrates Court and apologised for his actions – saying he wouldn't do it again.
He was ordered to pay a total of £1,192 – including a £650 fine, £300 costs, £177 to cover clean-up costs and a £65 victim surcharge.
Councillor Smith added:
There's lessons to be learnt from this case. Anyone offering a waste disposal service must have the necessary permits in place.

I'd urge all residents to check this as they themselves can face a fixed penalty of up to £400 or an unlimited court fine in incidences like these.

I'd also like to highlight the fact that the council has its own bulky collection service – which we offer at a really competitive price.

Residents can rest assured that their waste will be disposed of responsibly and can arrange it at just the click of a button.
Find out more about the bulky waste collection service at: Blackburn.gov.uk searching 'bulky collection service.'