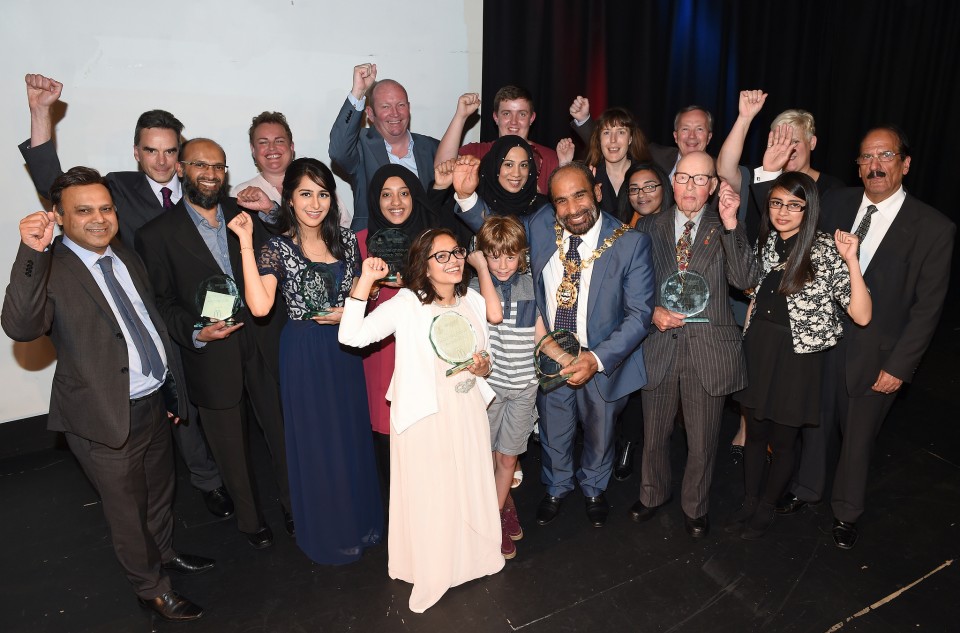 Published November 13, 2017 at 11:46
Unsung heroes who make a real difference to the lives of those around them are set to be recognised once again thanks to the Good Neighbours Awards.
Now in its fifth year, Blackburn with Darwen Council has teamed up with the Lancashire Telegraph to search for the people who go out of their way to help residents in their communities − or just want to make their neighbourhoods better places to live.
Building on the success of the past four years, the awards pay tribute to residents whose efforts are rarely recognised but make a big impact on their communities and neighbourhoods.
Prizes on offer for this year's awards include four family tickets to top national attractions; a six-month regency gym membership or tickets to the panto; a Stanley House voucher; a corporate meal for two at a Rovers home and Mall vouchers.
To nominate someone for an award, click here and fill in the form.
McDonald's are once again involved in the awards whose staff give up their time regularly to spruce up the area.
Last year the winners were seven-year-old Nathan Pugh who litter picks regularly, Jordan Bentley, 17, who helps a neighbour who suffers with health problems, Richard Westhead, 95, who has litter picked every day for 30 years and looks after a war memorial in Bold Venture Park, the West End Girls' Group (WEGS), who help street clean and care for the elderly, Janet Pearce, Fatima Dhira, Dr Mohammed Naushad and Zara Hussain, who were nominated for a variety of work in their neighbourhoods and Hannah Goldthorpe, 40, who was also nominated for work in her neighbourhood.
Councillor Mohammed Khan, Leader of the Council, said:
I am delighted to once again start the search for Blackburn with Darwen's best neighbours and community stalwarts. I can't wait to read the nominations highlighting people who really make the borough tick.
John Sturgess, of MGS Technical Plastics, said:
As a local company we are delighted to be involved with the Good Neighbours Awards and know first-hand the wonderful community spirit here in the borough.

There are so many people who inspire us all with their commitment to looking after their neighbours and people in the community. We are really proud to support the awards."
Ian Richardson, director of Growth at Blackburn with Darwen Council and Capita, said:
Capita is absolutely delighted to continue our partnership with Blackburn with Darwen Council once again for the Good Neighbours Awards.

The awards show that the Blackburn with Darwen is full of community heroes doing positive things for people in their area every day, helping to make the borough a better place and inspiring others to help.

I hope that everyone reading will have a think about who they could nominate and shine a spotlight on local heroes and the work they do.

We are always happy to sponsor these awards and look forward to the inspiring nominations."
Graham Burgess, chairman of Blackburn with Darwen Clinicial Commissioning Group, said:
Blackburn with Darwen has a strong history of working at a neighbourhood level and neighbourhoods play a strong role in improving and sustaining people's health and wellbeing.

A happy neighbourhood is a healthy one. The NHS, alongside its partners, is working to strengthen neighbourhoods even further as we continue to undergo tremendous change.

That is why I am delighted to once again support the Good Neighbours Awards.

The difference they are making to people's lives and their neighbourhoods is huge and it is important that they are recognised for what they do."
David Duncan, franchisee of the local McDonald's Restaurant in the Blackburn and Darwen area, said:
We are proud to be associated with these awards for the second year running.

Those people who make a difference to their lives and our communities, the unsung heroes.

We are giving the opportunity to local people to nominate their 'Good Neighbours', those people who make a difference to their lives and our communities, the unsung heroes.

Knowing our communities as we do, I think it will be very hard to choose a winner from all the nominations, as I'm sure there will be so many strong and amazing candidates.

The difference they are making to people's lives and their neighbourhoods is huge."
Mike Cheston, finance director at Blackburn Rovers, said:
We are once again delighted to support such a worthy cause.

We have enjoyed hosting some of the winners at Ewood Park in previous years and will look forward to offering another warm Rovers welcome to some of the local community's unsung heroes again."
You can also visit www.lancashiretelegraph.co.uk and follow the links to the Good Neighbours section where you can print out a nomination and send it in.